AT&T has started a sale on its website, slashing the prices of a number of hot smartphones. The Apple iPhone 5s and 5c got price cuts and so did the Lumia lineup offered by the carrier. Several Samsung smartphones also got discounted, but unfortunately the Galaxy Note 3 wasn't among them.
If iOS is your thing, you can now have a shiny new 16GB iPhone 5s in a color of your choice for $99 on contract. Unfortunately the 32GB and 64GB versions are still at their old $299 and $399 prices. The Apple iPhone 5c is now $49 for 16GB and $99 for its 32GB version. In fact the $150 discount on the latter is the biggest in the AT&T sale.
If you've been planning to get one of the recent Lumia flagships on the AT&T network, you'd be glad to find out that the carrier has started a promotion cutting their on-contract prices in half. This means that right now you can pre-order the Nokia Lumia 1520 phablet for just $99. Of course it will take until November 19 to get your order shipped, but that's just three days away now.
The price reduction gives the Nokia Lumia 1520 a considerable advantage over its main rivals – the Samsung Galaxy Note 3 and the HTC One Max, which cost $299 and $249 respectively. Packing the much younger WP8 OS, the Lumia 1520 certainly needs all the help it can get if it to make a serious impact in the phablet market and this sale suggests AT&T and Nokia are taking it very seriously.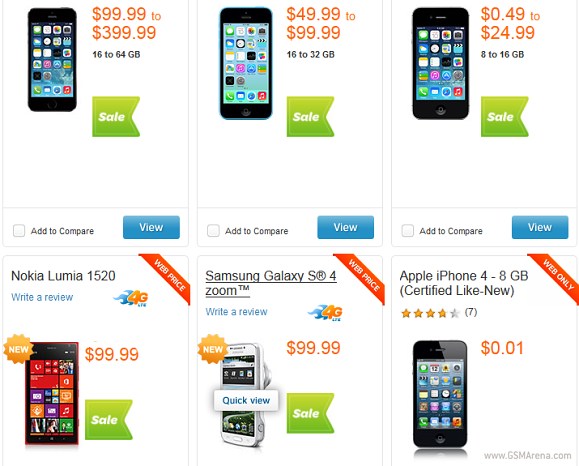 Two more WP8-powered Nokia handsets got price cuts, too. The Lumia 1020 with its humongous 1/1.5" 41MP sensor is also now offered for $99, while the Lumia 925 has its price slashed to $49. If you don't mind a little extra heft and would appreciate built-in wireless charging capabilities you can grab the Lumia 920 former flagship for 49 cents.
Of course you'll also have to sign a new two-year contract with the carrier, but even so some of the offers are quite tempting. The deals are available online and come with free shipping so you don't even have to get off your chair to take advantage of it. You can check out all the AT&T promo deals and place your orders by following the source link below.
I
Nokia lumiya 1520 is better then htc 1
?
there is no sale on apple products...just confirmed with att
?
Its not Nokia who is cutting the price its AT&T,the unlocked price is the same.