HTC First is a mid-ranger exclusive to the AT&T network that launched just under a month ago. It's the only phone where the recently announced Facebook Home launcher is available by default and integrates deeper into the Android OS.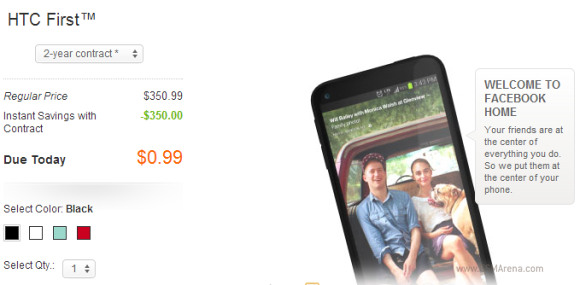 HTC First premiered in April, costing $99.99 with a two-year contract or $350 SIM-free. However it appears that sales have not been exactly stellar as today AT&T cut the on-contract price down to just under a single dollar. It's a pretty decent offer for an LTE-capable smartphone, with an exclusive launcher (or vanilla Android Jelly Bean if you that what you prefer).
There is no info if this is a limited time promotion, but we'd bet against it. If you want to take advantage of the price cut, you can order the HTC First from here.
J
Thank God this is Android. Which means there will be custom roms and custom launchers. If this was some other OS (non-open source), it may not have sold at even 99 cents.
ADVERTISEMENTS