The QWERTY-enabled Samsung A927 Flight II has made its way to both Samsung's and AT&T's websites even it hasn't been properly announced yet. Apparently, its premiere is just around the corner so we will get a chance to see it in flesh pretty soon.
Heavy texters will be glad to see the Samsung A927 Flight II hardware four-row side-slide QWERTY keyboard. In addition, the newbie also packs a 3-inch touchscreen of WQVGA resolution (240 x 400 pixels).
Also on board there is a 2-megapixel fixed-focus snapper which is capable of taking videos as well and a standard 3.5mm audio jack ready to accommodate your favorite headphones' plug. Thanks to the microSD card slot you can expand the inbuilt memory (of 512MB) with up to 16GB.
The phone is said to support AT&T's Mobile TV service and on top of that you get quick access to some of the most popular social networking services (such as Facebook and Twitter).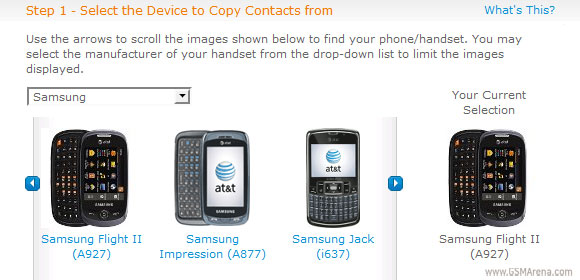 The unannounced Samsung A927 Flight II was spotted on both Samsung USA's (overview and specs sheet) AT&T's websites, however, there is still no word on the QWERTY-fied phone's official launch date or price.
c
If u gsmarena is posting some of no gsm phones why not all the worlds most known manufacturers like motorola lg nokia etc. U only posted htc and samsung. Why only thos two are Special in this line ?? This phone is ugly and tipical corby line
S
7th............boooooorrrrrrrring!
ADVERTISEMENTS