B&H Photo lists unlocked US variant of LG G5 going up for sale on April 1
B&H is a huge online retailer running straight out of Manhattan, their brick and mortar store is like Disneyland for tech enthusiasts including myself.
Anyway, the retailer has posted both the silver and titan colored LG G5 on its site with an availability date of April 1st. If this turns out to be an April fool's joke (which I really don't think it will) it really wouldn't be a good one.
The site lists the LG G5 as unlocked and identifies the unit as a North American variant. Strangely the description says the unit is compatible with CDMA or GSM networks, but does not list Sprint or Verizon in the list of compatible US networks. Perhaps they aren't CDMA compatible, or they are CDMA compatible but managed to miss the two largest CDMA networks in the list.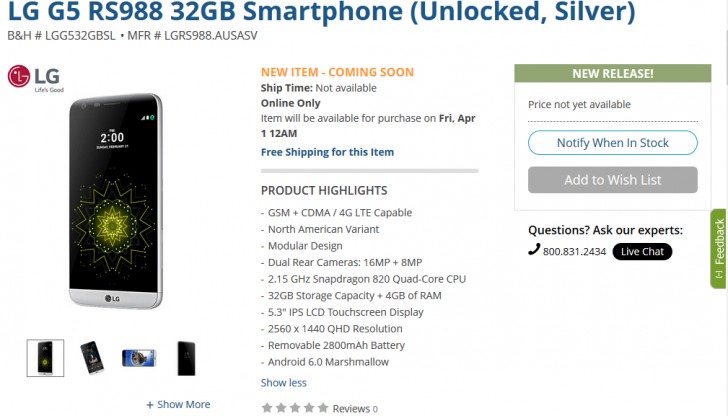 The listing also shows the model number as LGRS988.AUSASV, though this number doesn't really correspond with the other models H840 or H850. We've reached out to B&H to find out if the phone is indeed compatible on Sprint or Verizon networks in the US.
The LG G5 features a Snapdragon 820 processor paired with 4GB of RAM, a 5.3 inch, QHD IPS LCD display, 32GB of internal storage with optional expandable memory, as well as a 2,800mAh removable battery. Of course LG also has its own modular accessories or "Friends" specially made for the LG G5.
j
Hey. don't really get his whole north american variant business. Im looking at the LG G5 RS988 and I want to use it in Israel, according to the specs it should work. Is it not going to work because its a north american variant? I dont get it it's unl...
A
Thats not true. Doesnt work with LTE bands on AT&T
D
i said there are cases with super amoled having better brightness, BUT hardware vs hardware because lcds have backlight they will GENERALLY have the highest brightness level, look at the mi 5, disagree all you want but this is FACTS, the brightest an...