HTC is informing users of HTCSense.com that the site will soon be undergoing renovation. However, shockingly, HTC will not be retaining user data and after April 30, 2012 all the user uploaded data will be deleted. To prevent loss of data, HTC has provided instructions on its site on how you can download it while there is still time.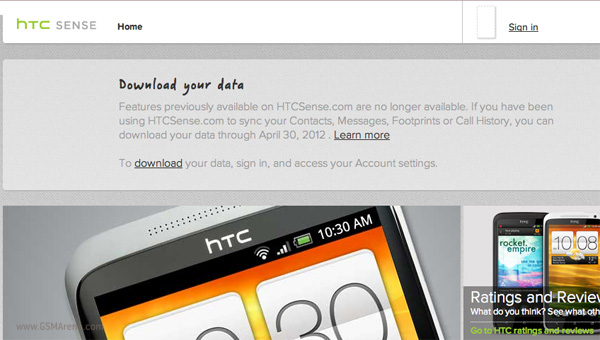 For those who are not aware, HTCSense.com is a cloud-sync service specially for HTC devices, that backed up your contacts, messages, call history, etc. on its servers. It's similar to iCloud, except it's not as comprehensive.
It's a bit appalling that HTC is deleting user data just for renovation purposes; it would have been understandable if the service was shutting down for good. The whole point of syncing your data to the cloud is so that you don't have to worry about it ever getting accidentally deleted. The users should not have to worry about things like HTC renovating the service; these things should happen in the background without affecting user uploaded content. It seems HTC has not quite got the point of cloud storage, yet.
A
Any news on when it's coming back up?
D
I got this news from here http://www.techsummary.in/index.php/topic,50.0.html
J
I back up on PC - but I have outlook so its very easy. I wish batteries were cheaper.
ADVERTISEMENTS