Banks around the world are removing support for the Galaxy S10 and Note10 from their apps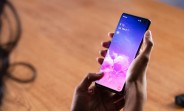 UK bank Nationwide Building Society has disabled the fingerprint login option in its app for owners of Samsung Galaxy S10 phones. Another, NatWest, has completely removed support for S10 phones.
This is in response to a vulnerability in the ultrasonic fingerprint reader used on those phones. Samsung posted an official response, but the issue may be more serious than initially thought.
Good morning Robert, We've removed the app from the Play Store for customers with Samsung S10 devices. This is due to reports that there are security concerns regarding these devices. We hope to have our app available again shortly once the issue has been resolved. SY

— NatWest (@NatWest_Help) October 20, 2019
It looks like the Bank of China has dropped support for Galaxy S10, Note10 and Tab S6 owners. Hapoalim Bank, one of Israel's largest banks, sent out a notice to its customers who use an S10 or Note10 that it has removed support for fingerprint authentication as well. South Korea's KaKao Bank (an online-only bank) has warned its users to disable fingerprint authentication.
Samsung has promised a software update for early this week that should resolve the issue. You'll need to delete and re-register your fingerprints, however.
PS. the Galaxy Tab S6 uses an optical scanner and there haven't been reports that it suffers from any vulnerabilities, so the Bank of China may have gone a bit overboard.
w
havent scratched a screen yet, use a folding case so keys issue is not an issue.
?
Im also a romanian and i never seen the problems (im a kid,lul)
?
Glad i got myself an S10e l, SideFP army hurrah!
ADVERTISEMENTS