With the 7" Galaxy Tab 4 Nook out of the gate, Barnes & Noble now launches a 10" version. Priced at $300, it brings all the same features and perks as its smaller counterpart (currently $170).
The Samsung Galaxy Tab 4 Nook 10.1 is based on a Galaxy Tab 4 10.1 (who could have seen that coming?) and if the 7" WXGA wasn't perfect for reading, this 10.1" screen with 149ppi (same 1,280 x 800 pixels resolution) is even less ideal.
The tablet is powered by a Snapdragon chipset (quad-core Cortex-A7) running Android 4.4 KitKat with a custom Barnes & Noble launcher, reading app and store for books, movies and TV shows. The Google Play Store is on-board as well – for apps, but also books, movies and TV shows.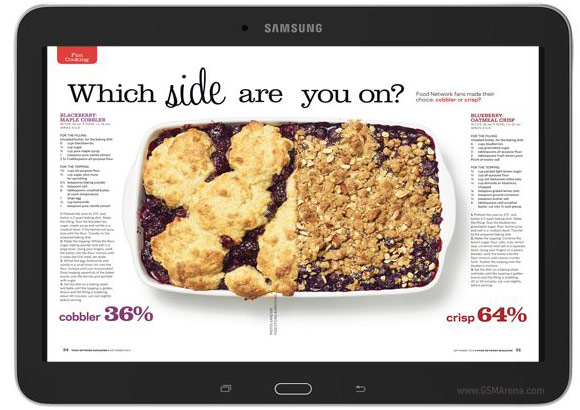 It has 16GB of built-in storage with a microSD card slot for all those graphic novels and audio books you'll download, plus Wi-Fi a/b/g/n for actually downloading them. The Nook Cloud will keep all your purchased content synced up between devices. B&N will preload $200 worth of "bestselling content" for free and give you a $5 starter credit.
The Galaxy Tab 4 Nook 10.1 also packs a 3MP main camera, 1.3MP front-facing camera, GPS with GLONASS for positioning.
The tablet is available today from Barnes & Noble stores and online on the B&N and nook.com websites. The current $300 price is discounted from $350 and there's no indication how long that will last. I'm guessing a long while since the Galaxy Tab 4 10.1 currently runs around $230 at Amazon.com and you can always install the B&N app for free.
c
Soooooo..are you people saying this Nook is NOT a good buy? I really want a tablet...but Im having trouble finding one that will let me watch FULL episodes of say soap operas and such..everything I have tried says it doesnt support it!
?
IPAD, any or all varieties doesn't hold a candle to the Samsung Tab S. Compare the, two on GSM. People buying iPads are getting less for their money and are only paying extra for a brand...how very stupid.
k
wow, the only thing worse released this year that I can think of is the fire phone. Both were really bad ideas I can't believe people are getting paid to come up with these things.