The BBC reports that Google has confirmed that it could not license its Play Services for the Huawei Mate 30. However, Reuters claims that the company will press on with the September 18 announcement regardless.
The US Department of Commerce is allowing companies to file for a license to trade with Huawei and over 130 companies already did. However, it seems that Google isn't among them.
Analysts do not believe the Mate 30 phones can be successful without the familiar Google apps – the Play Store, Maps, YouTube and others (also note that many non-Google apps depend on functionality provided by Google's Play Services). The company is already losing market share in Europe, dropping from 24.9% to 19.3% in Q2 this year (based on data from Counterpoint Research).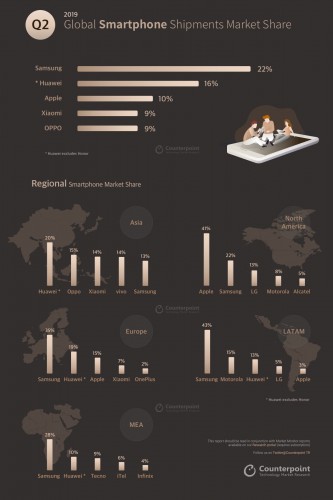 Counterpoint shows Huawei's market share is falling
Huawei wants to continue using Android. "Our new phones will still be based on Android. We want to maintain one standard, one ecosystem, one technology," said Vincent Pang, SVP and board director of Huawei.
The company will continue developing its in-house OS, Harmony, and will switch to it if it's cut off from Google's Android services. However, the OS isn't ready for prime time - last week Pang also said that it's unlikely Huawei will launch a Harmony-powered phone this yea (though he admitted that plans can change). The first hardware powered by Harmony is the Honor Vision TV, which launched three weeks ago.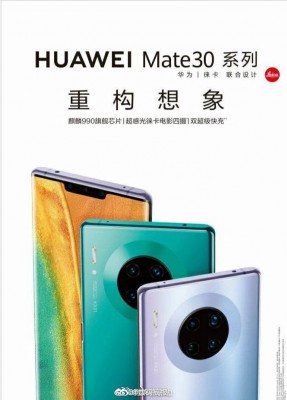 Leaked Huawei Mate 30 promo image
Richard Yu will unveil the Kirin 990 chipset during the opening keynote at IFA on September 6, this is the chipset that will power the Mate 30 phones. The chip is designed by Huawei's HiSilicon division and the company claims it has perpetual ownership of the ARMv8 license used to develop the chip, so it will not be affected by the ban.
S
I'm near certain that the Note 10 is offered for those who want the smaller form factor along with the s-pen.. The 1080p display should still cut the mustered for most
Y
And later run off and retire in Mexico with his wife. HAHAHAHAHAHAA
ADVERTISEMENTS