BlackBerry has started testing a new BBM feature that allows you to send and receive money using PayPal from within the messenger app. The feature is currently available for BlackBerry, iOS, and Android BBM users in Canada, and will roll out to other markets in the coming weeks.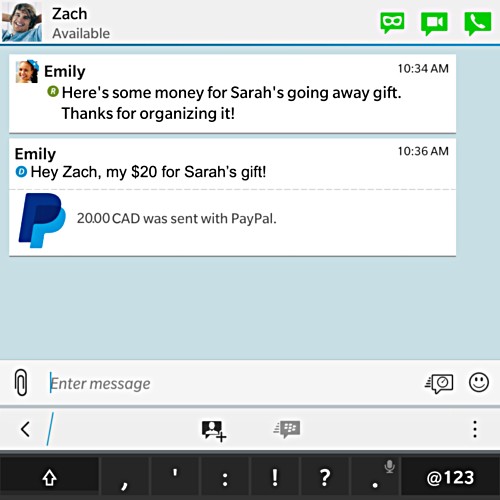 The way it works is: first you have to select the PayPal "Send Money" icon in BBM and connect your PayPal account. Once your contacts also do the same, you can start sending money to them by selecting the PayPal icon in the app, entering the amount of money, reviewing the details, and finally hitting the send button.
Another thing worth mentioning here is that you don't need to have the PayPal app installed on your device for the feature to work.
D
I like the "Blog" channel feature on BBM. The BBM community while small, it feels more personal and more exclusive. I get on it at least once a week. Love the Channels, Chats, Groups, and the basic IMs. It also acts as an "interests&qu...
T
122 with me. Even though according to its wiki page it has 190 million users, BB claims their messenger service has 80 million monthly users. That's much less than viber (105 million), Skype (300 million) or whatsapp (450 million). Whatsapp being ...