Belkin releases MagSafe-compatible 3-in-1 wireless charger and car vent mount
Predictably, mobile accessory makers jumped on the MagSafe bandwagon to offer a variety of products that use Apple's new wireless charging magnetic attachment system. Belkin already has a few interesting designs that will be available soon.
First up is a MagSafe version of its 3-in-1 charging station. This one leverages the magnets to hold up an iPhone 12. An Apple Watch is held magnetically as well, only the AirPod case is loosely placed over the wireless charging coil.
The magnets are apparently strong enough to hold the phone in place even as you swipe across the screen. You can also place the phone horizontally so you can watch a video while it charges.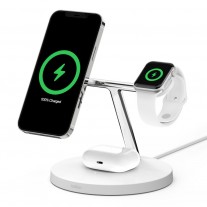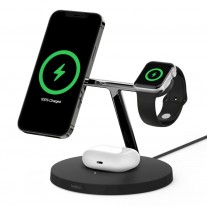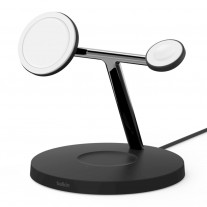 The Belkin MagSafe 3-in-1 Wireless Charger for iPhone 12 (available in White and Black)
This MagSafe 3-in-1 Wireless Charger can power up your iPhone at the 15W supported by the new system, double the power of the base Qi charging system and almost as fast as the 20W wired charger.
Then there's the MagSafe Car Vent Mount Pro. Note that this is indeed a mount and not a charger, if you want to charge your phone you'll have to connect a cable into the Lightnight port.
Again, the magnets are quite strong and can even absorb the shocks from a bumpy road. You can adjust the angle of the phone thanks to a ball joint and even rotate it horizontally.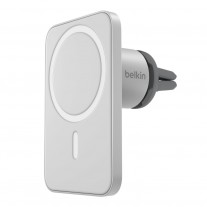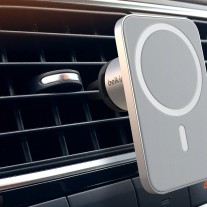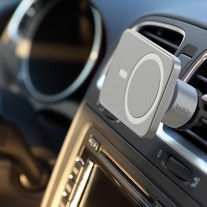 Belkin MagSafe car vent mount for iPhone 12
The MagSafe 3-in-1 Wireless Charger will go for $150 while the Car Vent Mount will be $40. Both will become available this Winter.
Belkin naturally has a number of chargers with a USB-C port, the kind you'll need with your new iPhone 12, 12 Pro, 12 Pro Max and 12 mini. And do need one as Apple no longer includes a power brick in the retail package (the iPhone 11, new SE and XR also lose the charger and EarPods).
While the new Ceramic Shield is four times more resistant to drops, you may still want a screen protector. The Belkin UltraGlass is made out of German-engineered lithium aluminosilicate glass and is twice as strong as tempered glass typically used in screen protectors.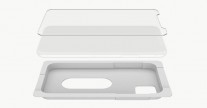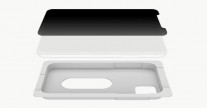 Belkin UltraGlass screen protector for iPhone 12 • Privacy version
These have a Privacy version too, which makes the screen appear black unless you're looking at it head on. However, if you hold the phone horizontally, the display becomes visible from all angles (here's a demo).
M
Most Chinese OEMs are clever in making imitation products with inferior quality. Guess who makes $5 cheap breakable USB cables? The Chinese. Pls don't be stupid.
C
Yes, ofc they will undercut the price ... and quality and safety and god knows what else xd
ADVERTISEMENT