A while back, Nokia's Twitter account jumped the gun when announcing the release of the Belle update for older Nokia smartphones. Let's hope this time it's for real - Nokia's Vietnamese site announced that Belle is coming on February 8 for the following models: N8, E7, X7, E6, C6-01. Nokia Vietnam's Facebook page confirmed it.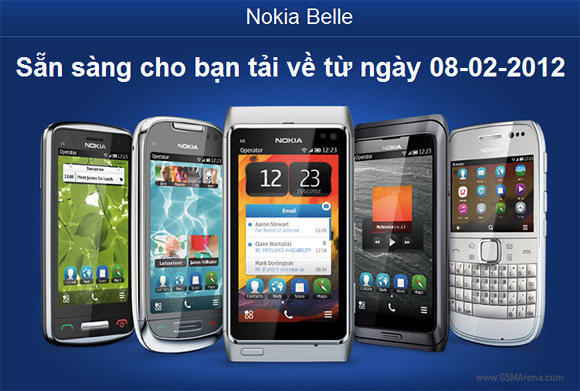 However the page on Nokia's site is now gone, while the Facebook post is still up.
We know the Belle update is coming in February, that's the latest info from Nokia. The exact date is not clear though, their UK page just says "soon" and adds the Nokia 500 to the list of updateable phones.
Nokia is already shipping new units of those devices with Nokia Belle out of the box, so the update is clearly ready. We're not sure what's the hold up or which regions will get it first.
We can't find a mention of the update coming on February 8 on any other regional Nokia web site either. If you spot it anywhere, post a link in the comments.
Source (original page, in Vietnamese) | Cached page • Source 2 (in Vietnamese)
A
I tried to do the belle update, my computer crashed and since i can't switch my n8 on. Now looking to get it hard reset but here in edinburgh nobody seems capable or wants to do it, so i have to send it to nokia. be very careful when doing it.
A
infact : it's rolling out right now ! February 7 !!!! i'd just connected my N8-00 to PC using nokia suite ! and it says the update is ready ! i'd just started it . wish me luck !
M
Its OUT , Im instaling it right now on my e6:).
ADVERTISEMENTS