We've all seen the gold Apple iPhone and HTC One, made for people just looking for ways to spend their money. But for some even those aren't enough to set them apart from the masses.
Luxury phonemaker Bellperre aims to take this a step further by letting you not only purchase phones made from solid gold, studded with diamonds, or covered in python leather, but also customize it with all sorts of expensive materials with its new Luxury phone configurator.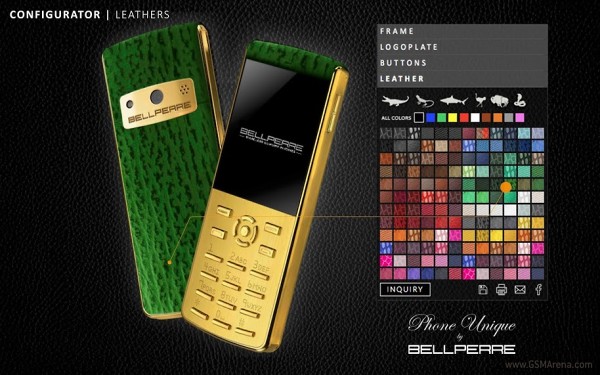 The configurator allows you to pick the frame and backplate to be of expensive metals or leather, but you can even add custom engraving or make the buttons a different color. All orders are hand-crafted by Bellperre, and are sure to set you apart in a crowd.
Obviously, the S60-based devices are hardly tech marvels, made more for looks than anything else, but Bellperre promises Android-enabled devices in the near future.
As far as how much one will run you, Bellperre's site makes you send a sales inquiry for an exact price estimate, which roughly translates to: if you have to ask, you can't afford it.
M
Wow, nice one Bellperre, we need something different on appearance. Gold wow but you should work on keypads.
D
Gold and radiofrequences don't compute...
D
well.. this is not any official site to be grammatical correct in the language.. the message is conveyed.. also.. using a phone.. and thats how i type using a phone....