If you have been around this site or the mobile community in general for some time now, then you surely remember the "benchmark cheating" saga. Back in the day, it was a common practice, especially among smaller manufacturers, with a clear preference towards the AnTuTu testing suite. The practice slowly died off in recent years, but a new reseach from the dedicated XDA community has uncovered signs of it in two current flagships - the OnePlus 3T and Meizu Pro 6.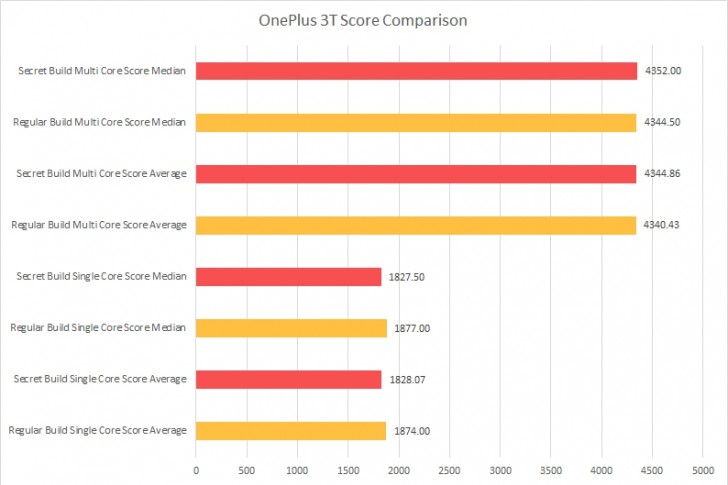 The analysis mostly focuses on the fourth generation "flagship killer" and while cheating might be a bit too harsh for what OnePlus is doing, there are a few things to be said about the phone's benchmark results.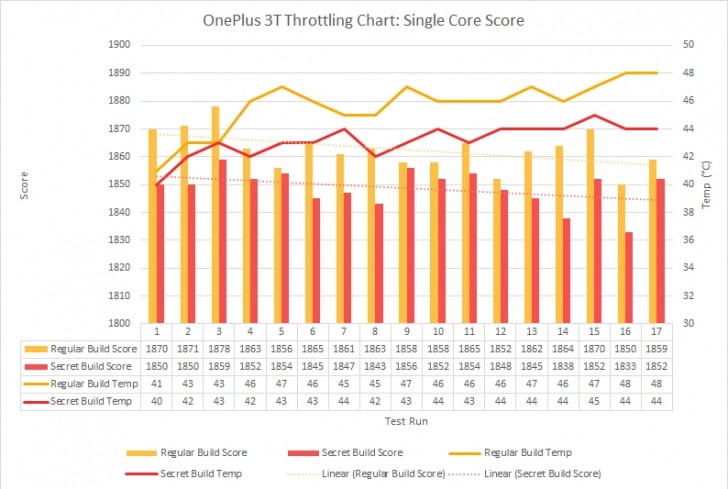 XDA's investigation into core speeds and thermal throttling is truly in-depth but here's the quick rundown. The OnePlus 3T detects certain benchmark apps and switches over to a more aggressive CPU governor to keep clock speeds higher for longer.
Unlike some other cheating schemes of the past, this essentially only means that OnePlus is deliberately trying to squeeze every last bit of performance out of the device. We suppose this is somewhat more acceptable, especially since OnePlus was quick with its response to the issues, even offering a promise to patch it in future OxygenOS builds on both the OnePlus 3 and 3T.
We aren't completely ready to let OnePlus off the hook by referring to the behavior as a special high-performance mode, implemented for general use with high-intensity apps. The XDA guys were able to accurately shine a light on the variance in reported performance scores with modified APK packages. This suggests a targeted attempt at fooling a specific list of apps, rather than simply offering a boost-mode.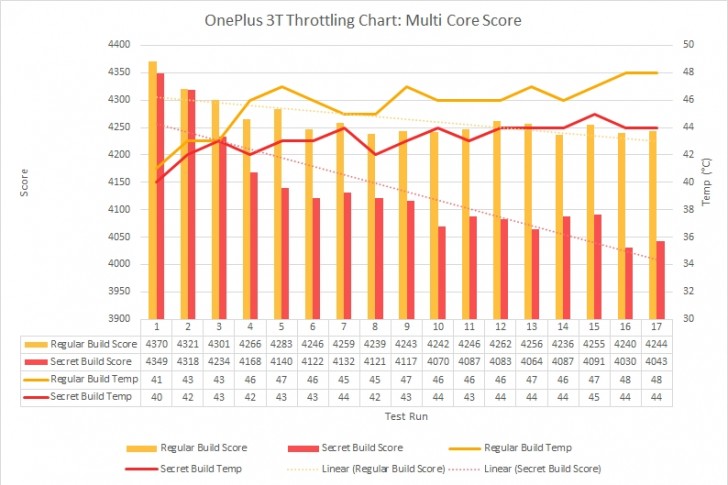 A quick glance at our test database, comparing the OnePlus 3T to devices like the Xiaomi Mi Mix and Xiaomi Mi 5s Plus, both using the same higher clock Snapdragon 821, does show some notable variances. AnTuTu 6 shows a whooping 10,000 points difference and it's now a bit easier to explain it.
GeekBench 4 (multi-core)
Higher is better
OnePlus 3T
4364
Xiaomi Mi 5s Plus
4333
Xiaomi Mi Mix
4288
GeekBench 4 (single-core)
Higher is better
OnePlus 3T
1890
Xiaomi Mi Mix
1815
Xiaomi Mi 5s Plus
1815
AnTuTu 6
Higher is better
OnePlus 3T
165097
Xiaomi Mi 5s Plus
155185
Xiaomi Mi Mix
133242
Hopefully, this doesn't spark a new wave of cheating in the mobile realm, as it definitely belongs in the past.
D
Hmmm, actually Apple usually beats all Androids in benchmarks too. Well in fact if there is one thing that iPhones are consistently good at (and which even Android fans have to agree) is that their custom chip solutions are very good with amazing sin...
?
yeah but i do need them for playing games like half life 2, portal, borderlands 2 (yes their on android yes there only on a few devices but u can work round that) my oneplus 3 is like a mini console i have a controller for it really good
.
They learnt from the best cheater: Samsung. There is a reason Android sounds fast in benchmarks but all lags far behind iPhone and even Window phones (when Window phones where a thing).