Benchmark reveals that the Samsung Galaxy Note10 will have a 19:9 screen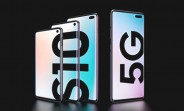 The Samsung Galaxy Note10 screen will match the Galaxy S10 phones with a 19:9 aspect ratio (the Galaxy Note9 has an 18.5:9 screen). This is most likely due to the switch to punch hole selfie camera(s).
The new flagship will be available in two sizes – Galaxy Note10 and Note10 Pro, both of which will come in 4G and 5G versions. One of these models, Verizon's Note10 Pro 5G judging by the model number (SM-N976V), was spotted in the HTML5test database.

Based on the rumors, the vanilla Note10 will have a 6.28" screen and the Pro will go up to 6.75". Assuming a 1440p+ class display, the resolution will be 1,440 x 3,040px (note that the benchmark recorded the virtual resolution of the mobile web browser).
Using this resolution, we can calculate the pixel densities of the two screens – 536ppi for the vanilla and 498ppi for the Pro. The benchmark also reveals that the phone runs Android 9 Pie, no surprises there.
D
I agree with other commenters; extra long phones are stupid. There's no reason for the additional height; it only makes the phone more expensive not to mention unbalanced.
?
Lmao until a smartphone can match the performance of a flagship pc, pc is here to stay far into the future.
A
To everyone complaining about screen size ratio : there are PLENTY of things to do with a SMARTphone, not only viewing movies. Like work.. I really enjoy writing and testing my scripts straight from my phone, no more pc required. Like it or not, t...