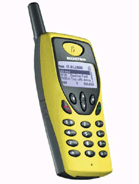 R
My new SIM card (64k) is not working in Twin. How come? :(((
A
It's good phone with 2 SIM-s(factory built in)
.I had this phone more than 7 years it is still working.Only week point the battery cover the plastic material does not match with the phone other quality of parts.
?
Very basic.Terrible quality of plastic.Antenna broke off within two months.In less than a year the battery which is one body with back cover broke both its clips, so no back cover-No battery! How stupid can a design get.
Postive-Very light and good coverage.Thats all! Expected much more from a Finnish company.
j
Its nice. I had one, and really liked it. Benefon is finnish company
M
we like this telephone and we would like to know more about it. where is made and how much costs.
we wait your replay. thanck you
Z
Actually there is NO capacity for the phonebook entries in the phone itself.


J
I have one and I like it very much!
M
You're wrong about twin and twin+...they don't have vibra call and I don't think that there's an option that there would be any vibra.
A
Benefon Twin+ added. Thank you for your cooperation
T
Where is Benefon Twin+ ? You can use two sim cards simultaneously in that phone.

"Two SIM card holders
Enable the use of two SIM cards.You can switch subscription without removing the battery and replacing one SIM card with another.

Location-based services support
The revolutionary GSM locationing system applications include, for example, personal security, fleet and staff management, outdoor recreation and value-added services like yellow pages or traffic information. "


Total of 10 user reviews and opinions for Benefon Twin.