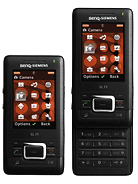 S
I Had This Phone from ITALY.
Design Gr8, But Crap Software. It Turned Off Itself And I put 1GB Memory, but when i want to access card massage appear (Multimedia Card is not available). Its Very Dissapointing.
now i am in PAKISTAN can some body suggest me how and from where i repair this phone.


s
i love [benq] siemens phones that i vowed to use no other phones but they have been a dissappointment. first it was C55 then MT55, now my EL71 has packed up. noiwhere to repair it here in nigeria. i think it has a flex problem. the screen display is upside down and seems to disappear if you slide open. the battery is dead,and no spare over here. any hints on how to repair this phone, this is certainly my last siemn phone +2348063312000
L
I Had This Phone. Great Design But Crap Software. It Turned Off Itself And The Memory Is Very Dissapointing >:(
Total of 7 user reviews and opinions for BenQ EL71.