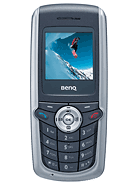 R
I having this phone, performance is good, looks nice. Recently I have lost blue tooth head set. I have tried to get new one and enquired in many shops, even I tried for head set. I am not able to get them. Even in the company website there is no listing of loacl dealer.
M
phone is good but iam not getting some opitions mms messages and it have fm or not iam not understanding how i can activate gprs blue tooth is good but we cant conect to other divieces .
C
Just bought this for $AUD80 (almost (1/2 price). Good points: cheap, LOUD ringtones, sturdy build. Bad points: slow menus, Benq want $AUD35 for a data cable + $10 postage (ha!).
R
Iam in india and this cell is a good value for money in india. The problems being... bad camera (0.8 mega pixel i guess), bad and slow key pad (SMS typing is a pain), bluetooth can be only used as wirefree headset, no data transfer, photos transfered thru only MMS; the cell is actually very delicate as not shockprooof like all the nokia cells (so dont even think of carrying the same to bryan adams concert as with the cam as if u cant click good pics)
a
Is this phone can install java software from internet or pc. In it's specification I seen it don't support java. If not I can't use opera mini. Also cannot use java games and softwares. And also please tell me the range of bluetooth headset.

Please mail me to my account.
v
i recently brought the benq M315 mobile phone and it is very good for me. i am feeling very nice at my mobile. but my problem is i am having USB data cable for my mobile phone but i am not having the supporting CD for USB cable.

so i want the solution for my problem

M
Had this 6 weeks. Keypad nice, joystick nice, battery well 2 - 3 days without much use isn't enough with my life. Love the alarms - there are five and you can pick the tune. Also they can be weekday only and the alarms vibrate and snooze for 5 minutes at a time. Bluetooth works ok. SMS is bliss so easy to change between modes, even mid message. Camera less than I had hoped for.
J
Hi,

I got the BenQ M315 Phone a few days ago and i abosoulutly love it. It is so good. It is also really handy with a camera because. i went on an excursion at school today (i'm a kid) and i didn't bring a camera, but i got my phone and i snapped away! The games arn't very good, but the camera is there to entertain you anyway. It is good because it is small and light. The desing also looks very snazy. The only problem is that i don't think it comes with a USB so i don't think you can transfer photos onto the computer. I might go down to the shop to see if i can get a USB thing (becuase it looks like it has a USB port) This phone is such good value and i reccomend it to people who like a small phone with camera and good features!


Thank You for reading!
D
Don't be fooled, the bluetooth only works between the phone and the handsfree headset. You cannot connect to other devices at all.
Total of 32 user reviews and opinions for BenQ M315.