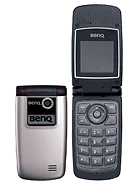 n
who said that it supports mp3 singtone?????????? may b it does and if it does then tell me how.
s
i am happy with my benq m350`s camera resolution & mp3 singtone support & multishot because with in the price rangeno other company is giving thease facilty thanks to benq team.
r
the design is cool, but i see this phone in another page and it just have like 512kb of memory!!!!!! thatīs not enough for a camera phone, ten pictures and itīs over, the designers should have think about the memory.
Total of 11 user reviews and opinions for BenQ M350.