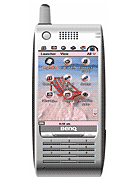 J
the stree price in taiwan is about 18000TWD, which is about 580 USD. it's not sold in ebay.
A
could anybody tell market price for Benq P30 smartphone in US or in middle_east? please..
W
Looks like a neat feature packed phone.
Does it look too wide?
No word about its price?

g
Is the phones ( P30 ) can like X - ray?
So we can see anything under clothes or under the papers, is it?
r
When are u people releasing the P31 model. If you people include EDGE tecnology and Radio in it , then it will be a hit .
Total of 32 user reviews and opinions for BenQ P30.