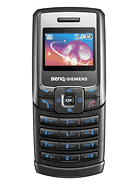 A
very just-enough GSM phone;with frantic soundscape availability and rockin' design..
low-end price resulted in full-end adventage..it's a great deal..
h
be sorry ( regret ) i bought this cell phone, couse always hang n no good reception, signal very very bad .... n bed .......... why ? benq-siemens lounching this phone ? why ?
A
I bought this phone and really regretted it. It has very slow response when typing SMS, and does not automatically recognise numbers from the same country (with/without country code) if not saved exactly the same way.

I do not recommend it at all. But it has nice ring tones.
r
At least it is Triband for $40 and 300 sms storage, it is an excellent bargain.
f
hi everyone beggers cant be choosers i think it is a nice phone
d
hi everybody,

You are right, Benq is copying other handys.
Siemens made dood phone , only problem they had was that the software not always perfect was. I like the new EL71 so much because it is made by Siemens not Benq. Better slidephone than Samsung, Siemens was also the first one with the slidephone
S
Looks like a Samsung to me too...

And no, I mean it. Phones are phones, but this is a Samsung rip-off. Siemens NEVER copied anyone's style, not even remotely!!! BenQ is giving the whole brand a bit of a bad name.






Total of 33 user reviews and opinions for BenQ-Siemens A38.