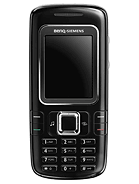 ?
Hello from Croatia, I have this phone 3 month and it´s fantastic, for thos price of about 120 euro there no best phone, and upgrade with 1GB RS-MMC card it`s really good mp3 player, bay him without any fright
A
This phone is great,realy great for that money.It's a best buy for sure,In Croatia it costs less than 100 euros.
?
If your mobile is too slow go to service and for free upgrade a new software
M
I don't have any problems with C81. My phone (C81) sw version is 40 a303. My software is very great, because it has'int any bug's. Sorry , I am don't greet writhing English words. =)
M
I have C81. This phone luks very bad at WEB pictures, but in real it's very cool. MP3 work's very good, thim have a bass!
n
i have this benq siemens and i have problems with softvare is there anybody with same problems?
S
Oh I forgot to mention. My software works great. Except the fact that i've got stupid orange menu in it that really pissess me off. But except that everything works fine. Maybe a bit slower when loading games, themes than k510i but it doesn't lag though. Writing messages works fast and easy. Menu is also fast. Games work awesome. I don't know much bout battery because I bought this phone today. When I turned the phone on it was showing bout 1/3 battery left. Now it's like 1/5. I'm using it for bout 2 or 3 hours non stop playing, playing music, changing settings etc. So the battery seems good. K510i's battery already depleted though it showed 3/4 when i started testing it. I hope i helped a bit. If you don't know which one to buy i suggest you to buy C81. I don't regret it at all.
S
I've just bought it. It's an awesome phone. I was also thinkin bout buyin SE k510i at a bit lower price but i don't regret my decision. My mom bought k510i so i can compare those 2.. C81 got better, a bit bigger display, much much better sound, great music player, memory cards up to 1gb. and it has "something" in it. K510i feels soo empty. Camera is above average but i havent done any pics outside so i can't compare really but i think that k510i has a bit better camera. Also at first sight i liked K510i n i bought Siemens just coz of memory cards but now i really like it more than SE. For me the only disadvantages over Sony are just a bit worse camera n function buttons. I really had to get used to them because before i was pressing the media player button instead the accept button. But really C81 is a great phone for it's value. K510i too but Siemens is really better after all. You won't be dissapointed.
M
That's true. I spaculate about buying SE K510i, but this cell phone offers me memory cards and bluetooth. It will be a hard competition. The main disadvantage of C81 is bad bright surface. It is easy to soil it.
J
Nice features for this C81, I think will win again this year the competition with K510 from Sony... :) like C75 did last year. It seems that K510 loks beter, at least in pictures...
All in all, a very interesting offer, i hope that it will have stable software and a good price like C75 did
v
pfuuu!!! this fone suxx! the design reminds me Vader frum star wars. he would be happy with this fone
n
The new Benq Siemens phones sure have potential. Good design and plenty of features. I really miss the classics, though :(. Wonder if they'll be made in Germany or Taiwan...
Total of 34 user reviews and opinions for BenQ-Siemens C81.