Today BenQ Mobile announced their new mobile consumer brand BenQ-Siemens. The new brand will focus on the 3G arena and will combine the BenQ multimedia strengths with the expertise of Siemens to create differentiated products.
BenQ-Siemens presented three new mobile phones - the EF81, S88 and S68 models. The BenQ-Siemens EF81 is a clamshell phone with UMTS support in just 15.9 mm thickness. It has 2.2" internal display with 256K colors and QVGA resolution (240 x 320 pixels), the external display is 1.3" large, 120 x 160 pixels. The phone will support MP3, AAC++, MPEG4, RealVideo 8/9 and 3GPP. With a 2.0 megapixel camera, Bluetooth support, 64 MB internal memory and a microSD slot, the EF81 will surely be attractive in the folder-flip category. In the market of slim 3G clamshells with high-resolution cameras, the EF81 will compete with Samsung, Motorola and LG models and can expect serious market share. The expected price of BenQ-Siemens EF81 is around 390 euro.
The BenQ-Siemens S88 will be a high-class camera mobile. With autofocus 2.0 megapixel camera and LED flash, the new mobile will take photos even in poor light conditions. Video recording will be available too. The pictures and video can be seen on the 2.0" OLED display with 256K colors (176 x 220 pixels). MP3, AAC+ and UMR will be supported in the phone, which also has 3D surround sound. Of course, it will support Bluetooth technology. With the S88 release, BenQ-Siemens will probably try to grab some of the current attention of the Sony Ericsson K750. The two phones are remarkably similar in features. The BenQ-Siemens S88 expected price is about 290 euro.
The S68 is going to be a efficient, simple phone with attractive design. The bar shaped mobile will be only 13 mm thick and will have aluminum front casing. The S68 will also offer 1.8" 256K color display (132 x 176 pixels) and good PC synchronization support (SyncStation DSC-100 or Bluetooth). The expect price is around 150 euro.
All three phones from the new BenQ-Siemens brand will be available in Q1 2006.
During the live broadcast from the BenQ-Siemens conference in Berlin we noticed an interesting picture. The phone in the middle is the new S88, but the two other phones are still unannounced models.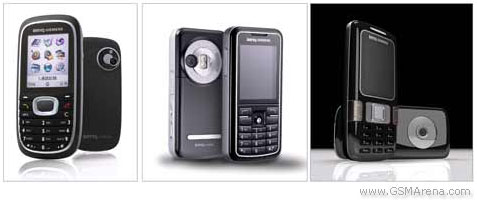 ?
does anyone know how much this phone costs?
a
great , all the best MR Munish we are with you
?
cool phone...will there, by any chance, BenQ-Siemens phones reach Asian Countries?...
ADVERTISEMENTS