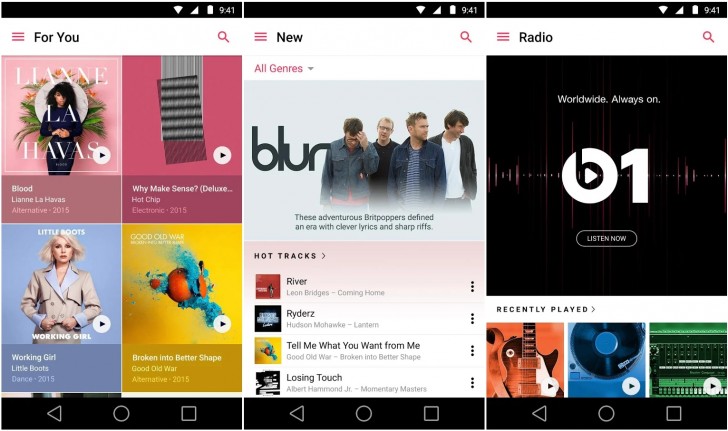 Apple Music
After a rather long wait, Apple finally released the Apple Music app on Android. Although still technically beta, the app works fine and is more or less on par with the iOS version. You have access to the entire library of music available in your region, along with curated playlists and the Beats 1 radio station. The songs you purchased on iTunes can be streamed in a separate section. You can also download songs to play them offline later. The only thing missing from the iOS version is the ability to stream music videos but other than that this is a fully functional app. Apple has also made the app look like a native Android app, down to the use of Roboto, which is more than what you can say for Google's apps that use Android design and fonts on iOS.
If you are using the service for the first time, you get three months of free subscription. The app requires you to have an Apple account, however, and also provide your credit card information, which will be charged once your free subscription ends. If you already are a member, then you just need to sign in to start using it.
Price: Free
Download: Android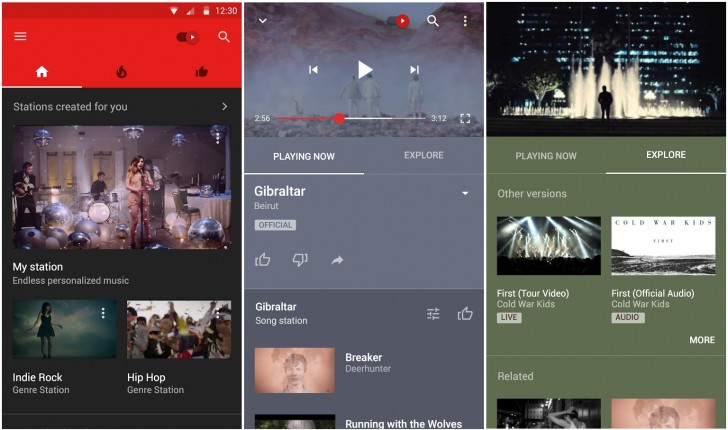 YouTube Music
Hot on the heels of Apple Music launch, Google released the YouTube Music app for Android and iOS. First things first, the app is US only for now. With that out of the way, YouTube Music is an app with focus on music, behaving pretty much like any of the music streaming apps but instead of just audio you have video as well. Clicking any video starts a non-stop station. You can create personalized stations for yourself. The app also learns your taste and suggests accordingly, along with showing new music and classics. You will also be able to see concert footage and live recordings. If you are a YouTube Red subscriber, you also get ad-free experience, background playback, offline playback, and an audio-only mode without the video.
Price: Free
uMake
uMake is a powerful but simple 3D design app that lets you create three dimensional objects by drawing in two dimensions. It's lets you sketch in 2D planes in a 3D space. You can import photos and use them as reference, control curve-weight and color, live symmetry and mirroring functionality, ability to create extruded and revolved surfaces. The app works on any iPad but has been designed with the iPad Pro and the Apple Pencil in mind. It's free but you can unlock additional functionality for $15 monthly or $150 yearly subscription.
Price: Free
Download: iOS
Complete Anatomy
Complete Anatomy is another powerful new app for the iPad that you would likely appreciate more if you're a medical student or a doctor. The app includes high resolution 3D human male model (female model arriving later) with 12 complete systems, including skeletal, muscular, connective tissue, arterial, venous, lymphatic, nervous, respiratory, digestive, endocrine, urogenital, and integumentary. You can zoom in and study the different systems in detail, observe the movement, use the 3D cut and draw tools that include cut, spurs, 3D and 2D pens, growths, fractures, discover, and pain to alter the model, record 3 minute clips with audio while using any of the app's features, explode the parts to understand them closely and reassemble them, create notes and quizzes, and more. The app is free but you can opt for a $5 monthly or a $50 yearly subscription. It's a worthwhile investment for students or colleges or hospitals.
Price: Free
Download: iOS
Osteya
Osteya is a 2D side-scrolling platforming game. The game has very basic controls including movement, jump and teleport. You have to find all the keys in the level to open the gate at the end while avoiding traps and enemies. Sounds simple but isn't. The gameplay and the retro graphics brings back memories of old school games that made you work a little to earn the reward. It's fun and addictive and worth a shot. Currently only on iOS but coming to Android later.
Price: $0.99
Download: iOS
Tap Tap Dash
Tap Tap Dash is a ridiculously addictive, fast paced action game, where you have to quickly tap the screen to change direction or jump when your character reaches the marked point on the map. The map keeps rotating around as you move and the character speeds up, making things extra difficult as you play along. Once you get into the rhythm, it's hard to put down the game even if you die repeatedly, which you will. The game is free, but for a small fee you can remove the ads.
Price: Free
A
add some more android apps or just call it best app store apps of the week, i am sure the play store have some interesting apps just as the app store does
C
Well Thats a Smart Cat I thought from your User you would only have a Dog