These are some of the best apps and games that came out this week.
---
Gboard
Gboard is a keyboard by Google for iOS. It integrates Google Search within the keyboard, so you don't have to switch back and forth between your current app and your browser. By having the search engine built-into the keyboard, you can not only search for things such as addresses, images, and videos but can also instantly paste them in the app you are currently typing in.
---
Dark Sky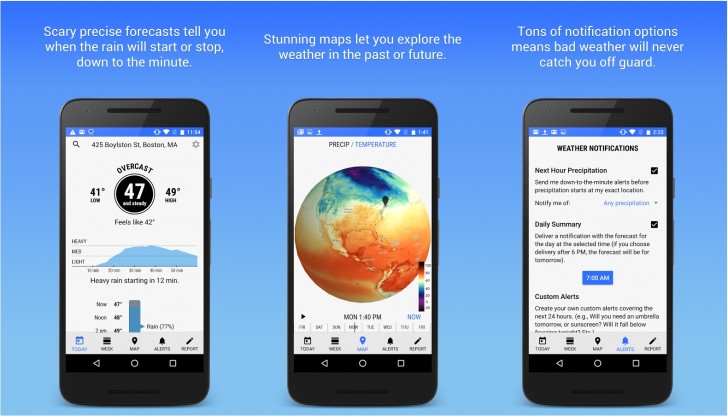 Dark Sky is a weather app, previously exclusive to iOS, but now also available on Android. Dark Sky prides itself on its hyperlocal weather information, which can provide you with weather information for the exact location where you are standing. The app can also be precise in other ways, such as telling you exactly when the rain will start and stop. You can also enable rain notifications and severe weather alerts, along with custom alerts. The app is free to try for 24 hours, after that you can sign up for free to use it for two weeks. Beyond that it's a $2.99 per year subscription fee on Android.
---
Google Translate
Google Translate on Android got an update that enables you to translate text from within any app. Whenever you copy text, a Google Translate bubble appears on screen. Inside you will find the translation to the text you just copied. You can choose to hear it or you can type text to translate it, and then copy the translated text to paste it wherever you want.
---
GIPHY Keys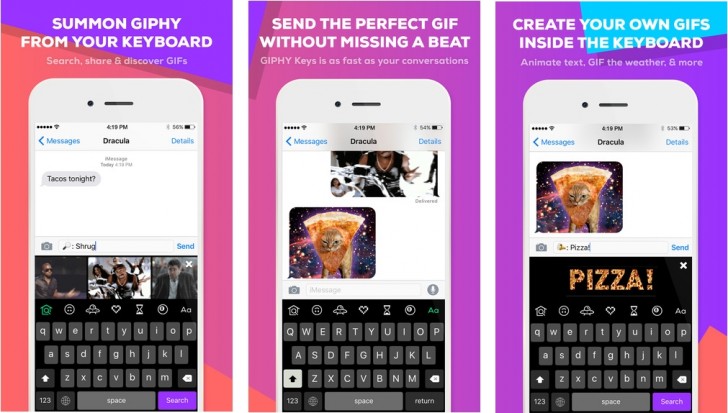 GIPHY Keys is a keyboard app, currently only available for iOS. It lets you search for any GIF from within GIPHY's vast database, which is also the largest of its kind, and post it instantly within any messaging app that supports sending GIFs (iMessage, Hangouts, Telegram, etc.).
---
Bejeweled Stars
Bejeweled Stars is the third game in the series after Bejeweled Blitz and the original Bejeweled that spawned many other 3 match games such as Candy Crush Saga. Stars takes inspiration from all the other games that came after it, with per level objectives, jems with special abilities, and several new challenges. While the genre is a bit played out now, Bejeweled Stars is still quite fun, especially if you haven't played one of these for a while.
---
Bushido Bear
Bushido Bear is a hack and slash action game where you have to draw a pattern around your enemies to kill them. As you draw around them, your character moves along the line you drew and attacks the enemies. Don't get too close to them, or it's instant death. Chain multiple attacks together to get a combo and collect all special items before they disappear.
---
Leap Day
Leap Day is a 2D platforming game. You have to tap the screen to make your character jump and navigate past the traps and enemies on its way to the top. The main feature of the game is that you get to play a new level every day, with different traps and different monsters.
D
Why do u pple mention silly games? Ravenbane is a good new game. Give new good games, games for gamers not casual games.