Amazon Chime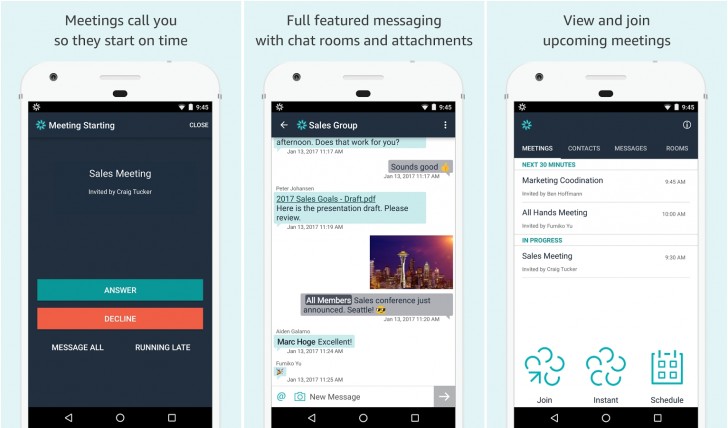 Amazon Chime is an enterprise communication tool that let you plan your meetings, make sure they start on time, see who all are participating, send them messages with attachments, see the contents of the meeting within the app, and more.
---
Batman: Arkham Underworld
Arkham Underworld is the newest mobile game from the series of Batman games by Warner Bros. In this game, however, you won't be playing as Batman. This time you play as the bad guys, with characters such as the Riddler, Harley Quinn, Mr. Freeze, Killer Croc, and Bane available at your disposal. With your own gang of hired thugs, you can go around Gotham robbing and causing mayhem. The game features a top-down view with RTS style gameplay and a returning voice-cast from the main series of Batman games from the consoles.
---
Casualty
In Casualty, you manipulate time to change the outcome of each level. You have to move your astronauts who are stranded to safety but doing so requires some trial and error and moving time back and forth until you find the correct route.
---
Digby Forever
Dig through the land to set off bombs while trying to avoid said bombs, enemies and cave-ins. Your objective is to dig as deep as possible without getting yourself killed.
---
Evergrow
In Evergrow you have to grow this block-like lifeform and make it as big as possible. Help the block grow by dragging blocks around in this physics based game with multi-touch and 3D touch support on select iPhones. The game also has haptic feedback for iPhone 7 devices and a wonderful atmospheric soundtrack.
D
I understand your stance on the coding part, but I would have to disagree. I've had accounts from multiple developers who have said coding for Android is just plain difficult. They are building from the ground up, though, and not using tools such as ...
D
You are right, thanks for the tip! From now on, I'll be a good girl, never ill-mouthing and always turning a blind eye towards mistakes.
?
Here's a tip. Don't comment too many bad things about gsma. They will kinda block your ip or username. You will be constantly shown that your post won't be shown until it's aprooved by moderator. Most of the time your comments wouldn't show or even i...
ADVERTISEMENTS