The latest HTC TouchFLO 3D user interface
This MWC we didn't see a truly novel and spectacular PocketPC signed by HTC. The company offered two sequels and what did impress us is the lengths the manufacturer goes to cover up the unwieldy Windows Mobile interface.
HTC presented their next update of the TouchFLO 3D UI along with their latest HTC Touch Diamond2 and Touch Pro2.
The user interface is upgraded in both features and response. The difference is most notable when browsing images – the onscreen image will virtually stick to your thumb and react fluidly and almost physically. The circular zoom gesture of the original TouchFLO is not available as the new devices now have a dedicated touch-operated zoom bar.
The new TouchFLO 3D of course is keeping the underlying WinMo interface pretty much under wraps. Its Home tab for example integrates the Call log, Alarms, Windows calendar and Weather the same way it did with the HTC Touch Pro. Opening a particular day in the calendar reveals not only the pending events but also the expected weather conditions.
A nice asset is the tweaked Start menu, which instead of a drop-down list, now appears as a fullscreen scrollable list of large icons.





Some of the new features in the TouchFLO 3D UI • the start bar is also renovated
The People tab has also been tweaked up. It features four shortcut icons under the contact photo - mobile, work, message and email. They allow you to contact the person directly from here.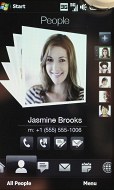 The People tab with four shortcut icons
The contact details are the other important upgrade here. Selecting a contact will reveal its details and the layout is more thumbable, with bigger tabs and fields.
Another convenient addition is the tabs bar at the bottom, which contain threaded messaging history with an option for direct reply, as well as emails and call history.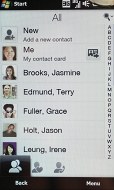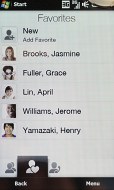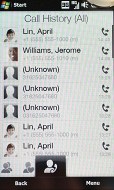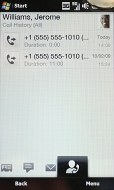 The Phonebook with the additional favorites and call history tabs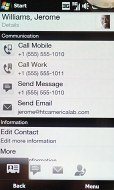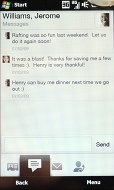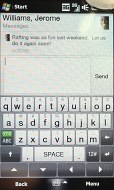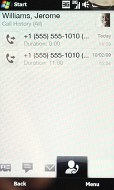 Opening a contact: tuned interface and tight integration with mail, messages and call history for the current contact is a really handy feature
Editing a contact is also available in the new contacts interface so you wouldn't have to resort to the underlying WinMo for that. The most commonly used fields are notably larger and quite thumbable, while the rest of the info is still accessible via the original Windows Mobile interface.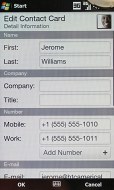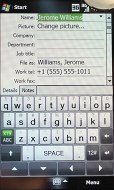 Editing a contact is also available in the new contacts interface for the most commonly used fields
Continuing with the software upgrades we come to the slightly modified in-call screen as well as the redesigned software keyboard for better user friendliness.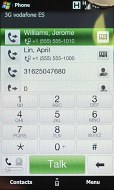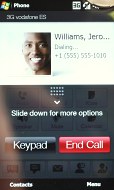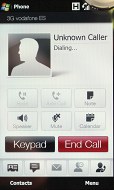 The redesigned in-call screen with the "more options" section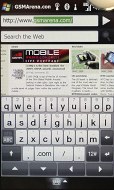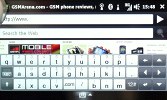 The keypad offers great user friendliness in both normal and landscape modes
Generally, HTC are doing a great job with their UI plug-ins. And until Windows Mobile 7 is out, the Touch FLO 3D will probably be one of the best WinMo user interface plug-ins.