Along with the Top 7 mobile phone features that we already presented to you, there were some other interesting gadgets along the way and this article won't be full if we didn't mention those as well.
Samsung i7410 projector phone
The Samsung Omnia HD was not the only thing to catch the eye at the Samsung MWC booth. The first GSM-band Samsung projector phone called Samsung i7410 was also announced at the MWC 2009 and it pinned our attention.
The Samsung i7410 is able to project videos of HVGA resolution (480 x 320 pixels) on a 5 to 50 inches diagonal. While this isn't anything spectacular for a dedicated projector unit, it certainly is a feat for a mobile phone that isn't even Nokia E90-large.
Related stuff:
Samsung i7410 projector phone hands-on
LG GD900 Crystal see-through phone
Another interesting thing, this time at the LG booth, was unfortunately behind glass only. It's the LG GD900 Crystal - definitely one of the most curious handsets around, offering an unprecedented see-through keypad. The manufacturer is refusing to reveal most of its specs, which suggests it's still a very early prototype.





LG GD900 Crystal transparent phone
Related stuff:
MWC 2009: LG overview

Gigabyte SmartZone user interface
Gigabyte also presented a really interesting WinMo thumbable user interface called SmartZone that deserves mentioning on this page. It is fully based on Flash and covers the underlying OS pretty thoroughly. Even the Start menu has gone missing.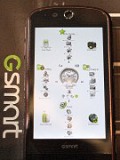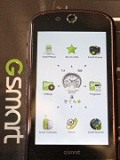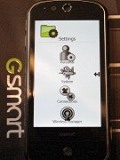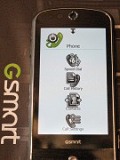 The Adobe Flash-based menu map and its sub-sections of SmartZone
Here's a video showing what the new Gigabyte SmartZone interface looks like in reality:
Related stuff:
MWC 2009: Gigabyte overview

Final words
Well, that's it, it's been a fun and hectic week visiting the MWC 2009 in Barcelona. You can bet that we'd be there again - 15-18 February 2010.
And don't forget to check out our complete MWC 2009 coverage page if you somehow missed it.