HOW-TO: Turn your Android phone into the best webcam for Zoom, Skype, Meet and Teams for free
Be it for work or school, video communications are skyrocketing. You are probably already using the webcam built into your laptop, or you've upgraded to a USB webcam. But today, we will tell you how you can up your teleconferencing game using your far superior smartphone camera.
Even a mid-range or budget smartphone from a few years ago likely has better camera hardware than a decent USB webcam. Android lacks native support for acting as a webcam for your PC, but that doesn't mean it's not possible. It just means we need to resort to third-party software to do the job.
We hand-picked the best and most popular software solutions for using your Android smartphone as a webcam and dug pretty deep into their strengths and weaknesses so we can single out the best one.
For this test, we included the following apps: Iriun 4K Webcam for PC and Mac, iVCam Webcam, P Webcam, DroidCam, and Xsplit Connect: Webcam.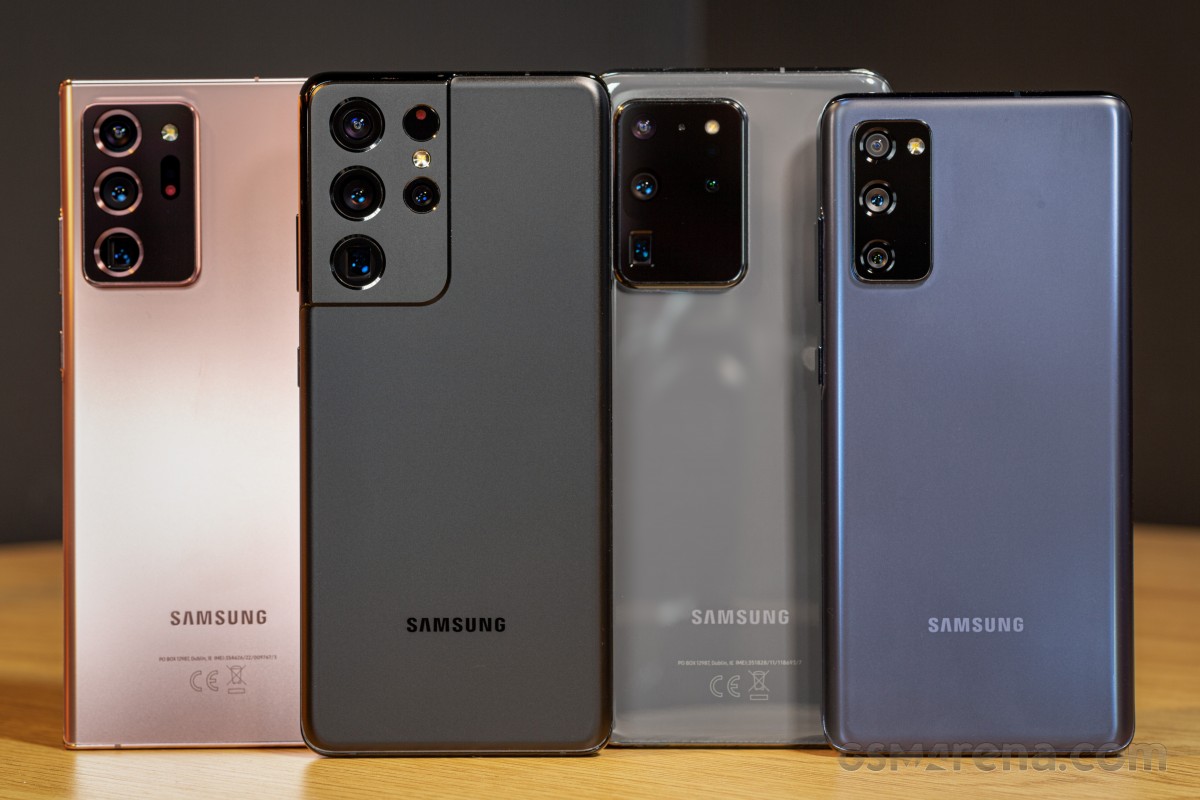 We put together a list of key features an app like this should have and we created the following table to get you started.
| | Iriun 4K Webcam for PC and Mac | iVCam Webcam | IP Webcam | DroidCam | Xsplit Connect: Webcam |
| --- | --- | --- | --- | --- | --- |
| Free | YES | YES | YES | YES | YES |
| Ads | NO | YES | YES (very unobtrusive) | YES | NO |
| Watermark | YES (unobtrusive, only fades in occasionally) | YES (constant and big) | Only on recorded videos | NO | YES (constant and big) |
| Max resolution | 4K | 4K (has 2 quality presents, 60fps mode if available on phone) | 4K (can go as high as DSP, but anything above 720p gets very choppy) | 480p (720p and 1080p in paid version) | 720p and no resolution options, just quality setting in PC app |
| Wireless | YES | YES | YES | YES plus optional Wi-Fi hotspot | YES |
| Wired | YES | YES | NO | YES | YES |
| LAG | ~1s at 4K, down to half a second at 640 x 360px | Depends on settings (from very little at 720p, medium quality to ~2s at max 4K quality) | Significant (~1s up to 720p and ~3s at high res) | Very low (~0.5s) in driver mode, up to 5s in MJPEG mode | Very low (~0.5s) |
| Can choose camera | YES (a bit buggy) | YES (a bit buggy) | YES | YES (a bit buggy) | YES but limited to one rear and one selfie cam |
| Can rotate camera | YES + invert image | YES (rotate only from PC app, invert from phone and PC) | YES | NO (locking in paid version) | NO |
| Captures phone mic audio | YES (often crackling) | NO (Claims to, but it barely works, lags everything and includes audio prompts in free version) | YES (can capture on phone, can not stream to PC) | YES with advanced support for other sources like Bluetooth mic | NO |
| Can record natively | NO | YES, photos and video at 720p can be saved to PC | YES, with advanced motion and audio detection and rollover options | NO | NO |
| Native effects/filters | NO | Single toggle beauty filter, flash toggle | YES plus full control over camera exposure and focus | NO | YES can adjust brightness and white balance |
| Requires client | YES | YES | NO | YES, but can work without through MJPEG stream | YES |
| Multiple phone support | NO | YES (with multiple PC client instances) | YES | YES, but only limited to MJPEG stream | NO |
| Works in background or with Phone screen Off | YES + auto dim screen option | NO background mode, but auto dims screen and disables preview on phone | YES, can also auto launch and trigger on command | YES (can lose some fps) | NO, but can dim display |
| Recovers from connection loss | YES (automatic and very quick) | NO (claims to be searching, but once PC app is stuck, it requires re-launch) | NO (requires manually grabbing steam again) | NO | YES (automatic and very quick) |
| Handles incoming call | YES (you can take the call, continues working with a bit more lag) | YES (you can take the call, no extra lag) | YES (you can take the call, but with more lag) | YES (you can take the call, but with more lag) | YES (you can take the call, no extra lag) |
| Other extras | | Controls available on phone and client app, Auto and manual exposure and ISO sliders in PC app, Hardware video decoding and renderer settings in PC app | Amazingly in-depth, but very hard to set up. | Has optional web stream with MJPEG support | Very convincing background remove and swap with image/video/webpage in real time, encoder and network TCP/UDP protocol and port tweaks. |
| What paid version offers | No watermark, everything else is free anyway | No watermark and no voice prompts in audio capture | Short of custom interfaces and Tasker support, everything is available free. | Even basic features are paid, including HD and FullHD res, autofocus, flip and rotate controls. Pro also offers screenshots, zoom controls, camera flash toggle. | No watermark, everything else is free anyway |
We will be going through the entries on the list, explaining some specifics and idiosyncrasies along the way, so you can really zone-in on the best solution for your personal needs.
We deliberately elected to only include free software, so each package has some features limited or locked behind its paywall. Choosing a solution with just the right combination of free features and compromises is what we feel is going to interest the most people.
We also did our due diligence to test the video quality of each of the solutions and will be including some observations on the subject, including detail, compression, smoothness, and connection stability. We will also throw in a laptop webcam for reference at the end.
And as a little extra bonus, we also did some analysis of the most popular teleconferencing apps themselves, to see what kind of compression they apply to determine whether a high-quality video feed from your phone even makes sens or the other parties are going to see no difference due to compressions. Be sure to read on for those tests, as well.
Iriun 4K Webcam for PC and Mac
Iriun has one of the most popular webcam apps around, as per the ranking in the Google Play Store. Starting with the phone app, you only get very few options laid-out in a convenient and orderly manner. It is simple and straightforward as it should be. There are no ads whatsoever, which is greatly appreciated.
You can select which camera to use, though the selector can be kind of buggy on multi-camera phones, depending on how the manufacturer lists its additional camera modules in software.
You can switch between landscape and portrait orientation, which is great, and also invert the camera feed. There is a toggle for the LED flash and there is an autofocus toggle, which is a nifty addition. So is the ability to dim the screen or even lock the phone and turn the display off entirely. Iriun can do all of those. You can also take incoming calls with no issue while Iriun is running.
The only thing that seems to require a paid subscription is the option to remove the watermark. However the watermark is quite unobtrusive, especially compared to what some competitors are using. It is just a small Iriun text in the top left corner that only fades-in occasionally. Honestly, we don't really mind it.
Like most of the software solutions on the list, Iriun requires an app on your phone, as well as a PC client. While this does add an extra setup step, it is ultimately a good thing since these companion apps allow any teleconferencing app to pick-up your phone as if it were any generic USB webcam. The driver also generally enables a more stable connection, with less lag and delay than using approaches like MJPEG or RTSP.
The PC client app installs with just a few clicks and like its Android counterpart, it has only a few easy to use options. We particularly like the Auto quality mode, which adapts to changing Wi-Fi conditions. It can be especially handy if you intend to move the phone around.
You can get an even more stable connection if you forego Wi-Fi and use a USB connection instead. This functionality is not advertised enough in our opinion as it works great. Disconnecting the phone from Wi-Fi or USB is not a major deal either, since Iriun is very efficient at restoring the connection automatically.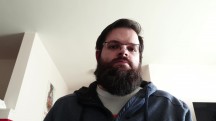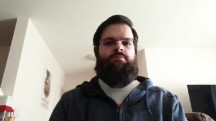 Iriun screen capture: 4K • 1080p • 720p • 360p
One of the reasons Iriun is so popular is the ability to crank the video quality all the way up to 4K on the free tier. Better still, increasing resolution doesn't really hurt latency too much. You get around 1 second of delay at 4K on a strong Wi-Fi connection, and that drops to just about 1/2 second at the lowest 360p setting. You can see how these compare in terms of quality in the screenshots below.
Latency on your webcam app can actually be a major deal depending on whether your solution of choice can capture and stream the phone's microphone or not and whether you decide to do that or use a separate mic. Iriun is one of the few apps that can stream audio with video, and since both have the same delay, they will be in sync. However, we would actually advise against using Iriun for audio, since the quality is often bad and there is a lot of crackling and distortion. The video delay is low enough so you can grab a separate mic or use the built-on built in your laptop.
iVCam Webcam
iVCam Webcam is another very popular app in the Google Play Store, likely since it also delivers up to 4K resolution on its free tier. Unlike Iriun, it does have ads inside the smartphone app, but mostly just one at startup and one after you have ended a session - we can certainly live with that.
The app only has a single interface screen, but in a slightly different way than Iriun. Only a few options are left on the app UI, with all of them also accessible through the Windows app, which is a nifty idea since it allows you to just connect the phone and not touch it afterwards.
One thing you can only adjust from the app is the camera selection. You can only flip between what the phone deems the main back camera and the main selfie one, regardless of how many cameras it actually has, which is a bit of a bummer.
The camera view can be inverted, as well as set to portrait or landscape. Though, the latter is oddly only accessible from the Windows app. In any case, pretty much every control is present in the Windows app, which is more important in our mind.
If there is one thing that really distinguishes iVCam from Iriun, it is the number of settings and amount control you get from the Windows app. iVCam really goes above and beyond, including toggles for autofocus, exposure and white balance, as well as a filter or "beauty" mode. You can also manually adjust exposure and ISO on sliders.
Resolution settings are accessed through the Windows app and you also get an FPS toggle, which can go all the way up to 4K@60fps, if your phone and DSP can support that. We really don't know why you would want anything beyond 30fps on a webcam, but the option is there.
You should probably avoid higher framerates, unless you really need them, though, since iVCam has notably higher latency, ranging from sub 1 second at 720p and below to over 2 seconds at 4K. Interestingly enough, switching over to a USB connection doesn't improve latency.
Just like with Iriun, the USB connection mode is not really advertised too much in iVCam.
Another thing iVCam devs seem to have skipped on is connection recovery. Despite our best efforts, upon losing either Wi-Fi or USB connection to the phone, iVCam never could restore the connection automatically, always requiring some manual intervention.
Audio recording is also not a strong point of iVCam. While the feature is officially supported, we never actually managed to get it working reliably. Audio quality was horrible and it actually made the video more laggy as well. Even if we got it to work, though, the free version of the app includes voice prompts in the audio, which is a lot harder to live with, even compared to the huge and rather obtrusive watermark, constantly present on the iVCam video feed.
iVCam can't work in the background. If you lock the phone, the app gets killed. You can have the app automatically dim the phone screen a bit. However, even with that option enabled, our handset got hotter over time with iVCam compared to other solutions simply because the display was on.
To be fair, iVCam does compensate for some of these deficiencies, by offering some extra features, like native video and image capture. Both of these get saved on your PC. You can also adjust the video encoder format streamed from the phone to the PC and hardware decoding is supported on the PC side for better performance.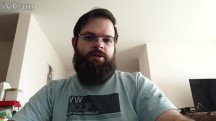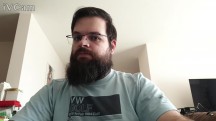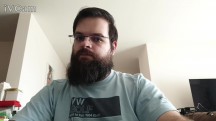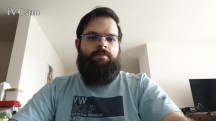 iVCam screen captures: 4K • 1080p • 720p • 360p
There is also a quality slider in settings, which did not seem to affect the actual quality that much. Still, we took all the sample screenshots at the maximum quality setting. Also, it is worth noting that iVCam has an official guide on how to run multiple client instances on your PC and connect many smartphones to one PC, in case you need that functionality.
XSplit Connect: Webcam
XSplit is a very popular name in the streaming space. Its toolkit includes a smartphone webcam app, but surprisingly that one is not nearly as popular as Iriun or iVCam. A lot of that might actually be down to the lack of 4K support. As far as we managed to determine, XSplit just works at 720p as a whole. Even purchasing the paid version does not increase resolution. All it does is remove the watermark, with all other features already available free. The watermark itself is quite obtrusive, just like iVCam's which is potentially motivation enough to spend the money.
Just like iVCam, you can only choose between one main camera and one selfie one. It is quite infuriating that you are automatically locked to portrait mode for the selfie cam and landscape for the main one. You cannot rotate the camera in any way.
On the flip side, we do appreciate the simplicity of the main app UI. You can only toggle the flashlight and that's about it. White balance and brightness settings are available in a sub-menu. The settings section includes the ability to dim the display or even show black while streaming. That's admittedly one better than iVCam's solution, since on OLED phones the display does not generate extra heat. Even so, Xsplit does not work in the background and if the phone locks, the app dies.
On the plus side, Xsplit earns back quite a few points for its advanced encoder and connection settings. If for any reason, your current network setup misbehaves with one particular setup, you should be able to tweak it. Failing that, USB connection is supported and works just as well as Wi-Fi. Xsplit also does a great job of recovering from connection loss, just like Iriun.
Regardless of what connection you use, Xsplit has an impressively low lag. Probably the lowest of the bunch, going by observation, since we can't reliably measure it. Too bad then that it can't stream the phone's microphone at all. Still, having low lag is appreciated since it's less likely to appear out of sync with whatever microphone you do end up using.
The Xsplit Windows app is pretty slick and modern and includes convenient tutorials and usage guides. Much appreciated.
Notable options include hardware acceleration, a quality selector, which does a great job of adjusting in Auto mode. You can also force a lower resolution by disabling HD mode, and you can force 30fps mode (up from the default 24fps).
The Xsplit's "killer feature" is the ability to remove your camera background in real-time and substitute it with anything from a static image, a video (local or YouTube) or a webpage. The app even has access to the online image repository Unsplash to automatically fetch backgrounds for you.
Plenty of adjustments are available for the background effect and media. One particularly interesting thing we noticed is that the Xsplit application lists any device on the system that claims to be a webcam. Meaning that you could potentially use one of the other apps to deliver the feed to the PC, if you prefer its options and behavior and then use Xsplit for its background effects alone. However, this does not remove the watermark. You still have to get the paid version for that.
Here are some samples from Xsplit with and without the background removal options. It is worth noting that autofocus was a bit less reliable than we would have liked while using Xsplit. It did work, but was just a bit sluggish, and the app does not offer any settings to adjust that.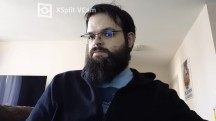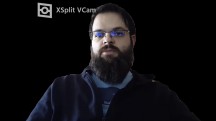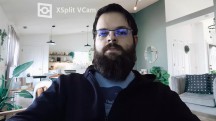 Xsplit screen captures at 720p
DroidCam
DroidCam is one of the oldest solutions for using your phone as a webcam. A fact you can definitely guess by the old-school UI. We won't really hold that against it, though. Plus, it has no ads at all.
Some observations in terms of options in no particular order - white balance can be set to auto or a number of other modes, and you can lock the exposure. Focus is handled in a particular way - once focused, and you have to press a button in the app to refocus. That makes the free version of DroidCam not really functional for anything different than a static shot. If you buy the Pro one, you can get autofocus, though.
Also locked behind the paywall - 720p and 1080p resolutions. Free is limited to 480p, but there is no watermark. That's fair enough, but we really don't like the fact that flip and rotation controls are also a Pro-only thing. Pro also offers screenshots, zoom controls and a camera flash toggle. All accessible through the Windows app.
You can select which camera to use. Like most of the other apps, the selector is dependent on the way the phone declares its cameras. On the Galaxy Note9 that means one main camera and two selfie ones - one for the wide and one for the regular mode of the singular selfie shooter.
DroidCam can dim the screen of the phone, and it can also work in the background. Once you lock the phone, though, the feed tends to get laggy and drops frames. On the flip side of the spectrum, if you want to prevent your phone from timing-out on itself, there is a toggle for that.
Connection-wise, DroidCam can do both Wi-Fi and USB connection, and both are very prominently and clearly advertised, which we appreciate. Latency is very low when using both USB and a good Wi-Fi connection.
DroidCam also can't recover from any sort of connection loss on its own and often requires a restart of both the phone and Windows apps.
Microphone capture and stream is particularly well-done on DroidCam. Not only can you do it, with surprisingly good quality and low latency, but you can also choose to grab audio from a connected Bluetooth device. All in the free version, no less. If you really have no access to any other microphone, the audio capabilities of DroidCam alone might be a really compelling reason to go for it.
DroidCam has a particularly-interesting IP Webcam menu and set of options. Just like the name suggests, this lets you stream the phone's video feed through the web in MJPEG. This is nifty for situations where you need to grab the feed on a particular player or third-party playback device, without requiring the client app. However, MJPEG, in general is a very-limited format that looks worse and is less-smooth. In DroidCam in particular, it basically ruins all of the audio features by introducing upwards of 5 seconds of lag.
This is actually a good lesson that DroidCam taught us, effectively guiding the rest of our app selection for this list. Simply put - a web-technology-based webcam solution using things like MJPEG, RTSP, Onvif etc. are easier to implement, since they don't require a PC client. Hence, a lot more of these apps exist for Android. However, without a Windows client app, you generally get a lot worse latency, often too bad to even consider for anything other than security cam purposes. Plus, with no Windows client you have to figure out a way to inject the stream into your video chat app on your own. It can be done, but it's finicky and definitely worse than using a virtual device driver solution, as provided by the developer.
On the Windows side, the DroidCam app is very simple and straightforward. It still bugs us a lot that all of the actual options are locked behind a Pro tier. On the plus side, having the phone battery readout is quite convenient.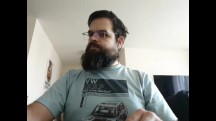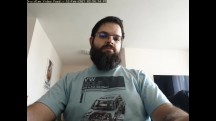 DroidCam screen captures at 480p
Here are some samples from DroidCam to judge quality. Both at the max 480p resolution, available in the free tier. One with the driver and the other through the MJPEG stream. In addition to all of its other limitations, the latter also has what is effectively a watermark in the top left corner.
IP Webcam
We won't be digging too much into IP Webcam for the purposes of using it as a webcam software. The primary reason being that it is meant to use technology like RTSP, MJPEG and Onvif to stream the camera video out of your smartphone. This is very convenient for certain use cases, especially those that do not require real-time operation and are not too affected by lag, since high latency is kind of inherent to these technologies.
You could still technically use a software like IP Webcam or any of the other numerous similar apps available on Android to get a camera feed into a chat or teleconferencing app. You will, however, face major lag. With IP Webcam, the lag was as low as 1 second at 720p and upwards of three seconds at higher resolutions.
The reason we went with IP Webcam for this list is that it is probably the best, most feature-rich and complete example in this category of apps. It is almost entirely free, as far as we can tell, with very limited and nonobtrusive ads and a watermark just on recorded videos. It can also do 4K. In fact, it can even go above 4K, to the highest possible resolution of your camera sensor.
IP Webcam also has amazingly in-depth options. It's stuff like the ability to choose any camera you might have, with no limitations - at any resolution and frame rate it might support. You can also do things like automated recording, including rollover and motion detection. Toss in custom interfaces, advanced plugin support and even triggers and custom actions, including Tasker (if you get the Pro version) and you clearly end up with a software meant to empower the creation of automated cameras. Most-obviously for surveillance purposes, but the possibilities extend far beyond that as well.
There are plenty of filters available, as well as effects and all sorts of video manipulations, with rotation and inversion being just the tip of the iceberg. Other notable features of IP Webcam include the ability to record audio on the phone. It can't actually stream it to your PC, though. It can work in the background just fine and can even be summoned to do things while in the background, with the right setup.
Customization and settings on the PC side are available via the included web interface, which is also just as complex and messy as those on the mobile app.
Overall, a pretty cool piece of software, but not really designed to cover the most common webcam needs of the average user. Plus, setting it up properly is a gargantuan task with a lot of pitfalls. Even so, if you think it's your particular cup of tea, here are some quality samples we grabbed at the highest possible 100 quality setting.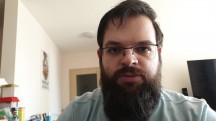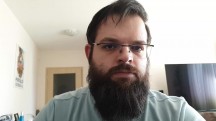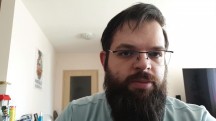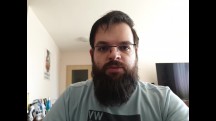 IP Webcam screen captures: 4K • 1080p • 720p • 480p
For reference, here is the kind of quality you can expect from a decent and recent laptop webcam. This is from a Lenovo ThinkPad X1 Carbon (2019) - not neccesserily an outstanding performer, but still an HD cam fitted inside a high-end business-class notebook. So, overall, pretty representative of the kind of quality you can expect from a laptop webcam.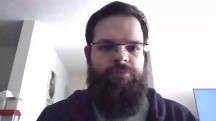 Lenovo ThinkPad X1 Carbon (2019) webcam
Teleconferencing app quality comparison
As one final step in our testing, we wanted to try and determine whether video input quality ultimately matters in a significant way when dealing with modern video call and conferencing tools. After all, if your software is going to compress or otherwise ruin the quality of the video anyway, why bother upgrading the webcam quality?
Since we needed a setup with as few variables as possible, we elected to pump this video through the video call on one end and then capture it on the other. OBS and its virtual webcam plugin were used to inject footage into the messengers at different quality settings. We made sure to switch both the input video's resolution, as well as the working and output resolution of OBS, and we tested at 4K, 1080p, 720p, 480p and 360p consecutively, while also making sure that the network connection was as good as possible and leaving enough time for the video protocol to adjust to the best possible resolution. Having a moving image instead of a stationary one was also crucial, just to keep the scenario more realistic.
Skype clearly showed quality difference at every resolution level we tested, which is great and speaks well of the overall max video resolution it supports. For practical terms, we would say that 720p looked good enough, but if you really want a smooth image without any jagged edges, 1080p looks to be the sweet spot.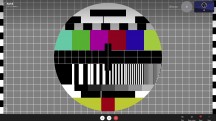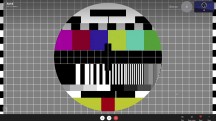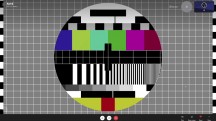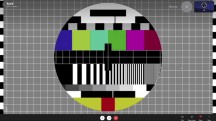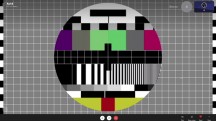 Skype video call: 4K • 1080p • 720p • 480p • 360p
Microsoft Teams appears to top-out at FullHD resolution. Pumping 4K though it really does not make a tangible difference. Also, the difference we observed between 1080p and 720p was frankly not big enough to unequivocally recommend 1080p. Instead, we would say that 720p is the sweet spot, with anything lower than that quickly starting to exhibit quality loss.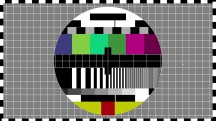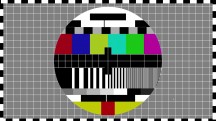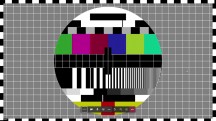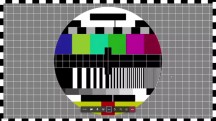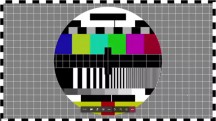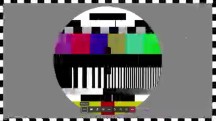 Microsoft Teams call: 4K • 1080p • 720p • 480p • 360p • First few seconds
Zoom seems to have a max resolution potential of 720p. Giving it 1080p or 4K basically produces the same output on the other end. On the flip side, going from 720p to 480p constitutes a massive and easily-noticeable downgrade in quality. Stick to 720p.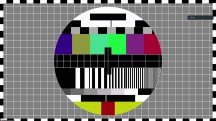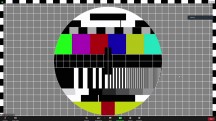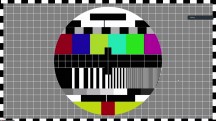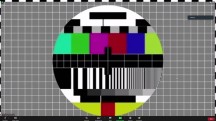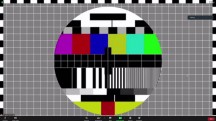 Zoom call: 4K • 1080p • 720p • 480p • 360p
Finally, rounding-off our selection of, let's say business-focused teleconferencing tools, we have Google Meet. It also seems to have a 720p resolution cap. So, anything higher than that is a waste.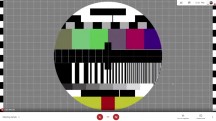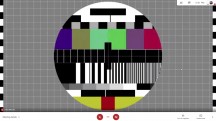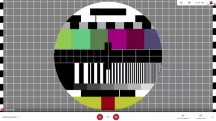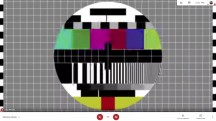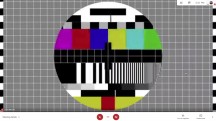 Google Meet: 4K • 1080p • 720p • 480p • 360p
From the tested software packages, Google Meet seemed to consistently offer the worst overall video quality. Regardless of settings or input quality and resolution, the feed came out looking very pixelated and compressed on the other end and chock-full of interlacing artifacts. Quite the bummer, especially since Meet was a clear winner in terms of ease of access and the seamlessness of the experience of creating or joining a meeting.
Final thoughts
Using an Android smartphone as a webcam stand-in is a pretty good idea overall. Even with an older midranger that you might have sitting in a drawer somewhere, you are likely to get better results than with your average built-in or even separately purchased webcam. The main benefits being more detailed image and improvements in things like exposure and dynamic range. Autofocus is pretty cool to have, as well.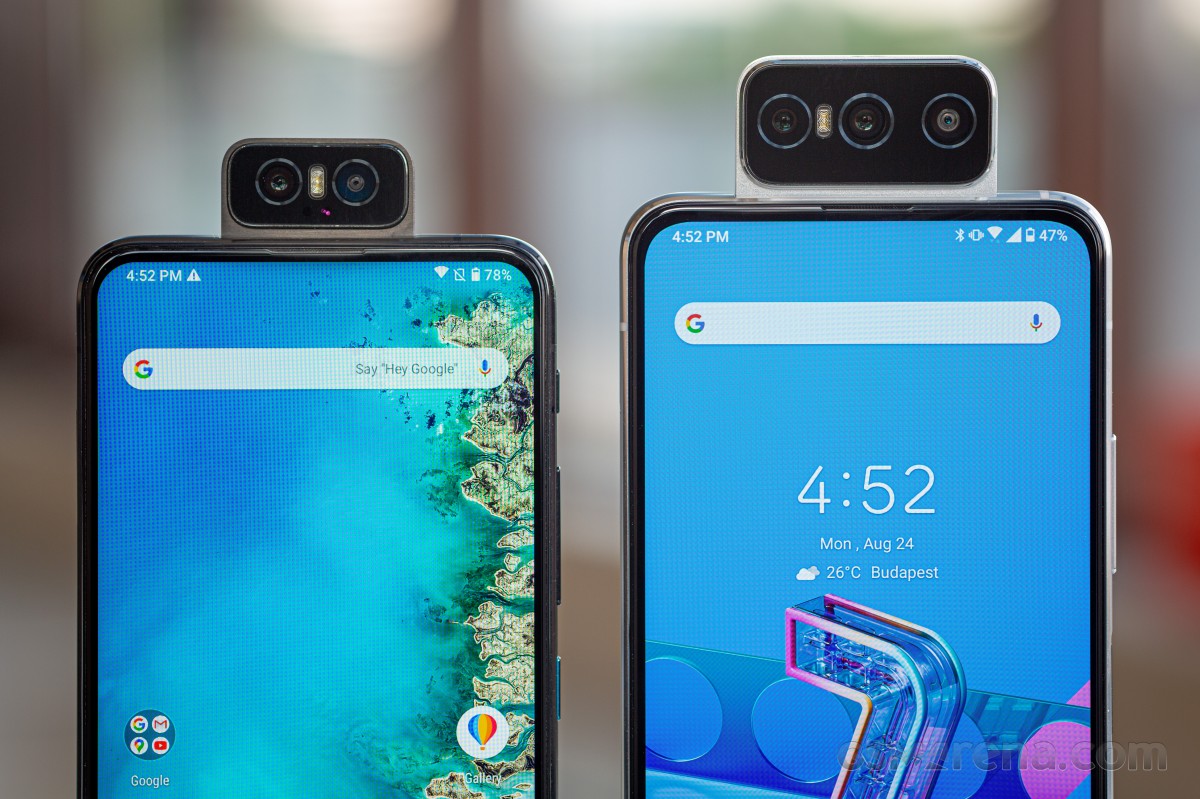 Having tested the available options and the video conferencing apps rather thoroughly, we can safely say that input resolution is not the most important parameter to be looking for when choosing a software webcam solution. 1080p seems to be a point beyond no app really gains anything significant.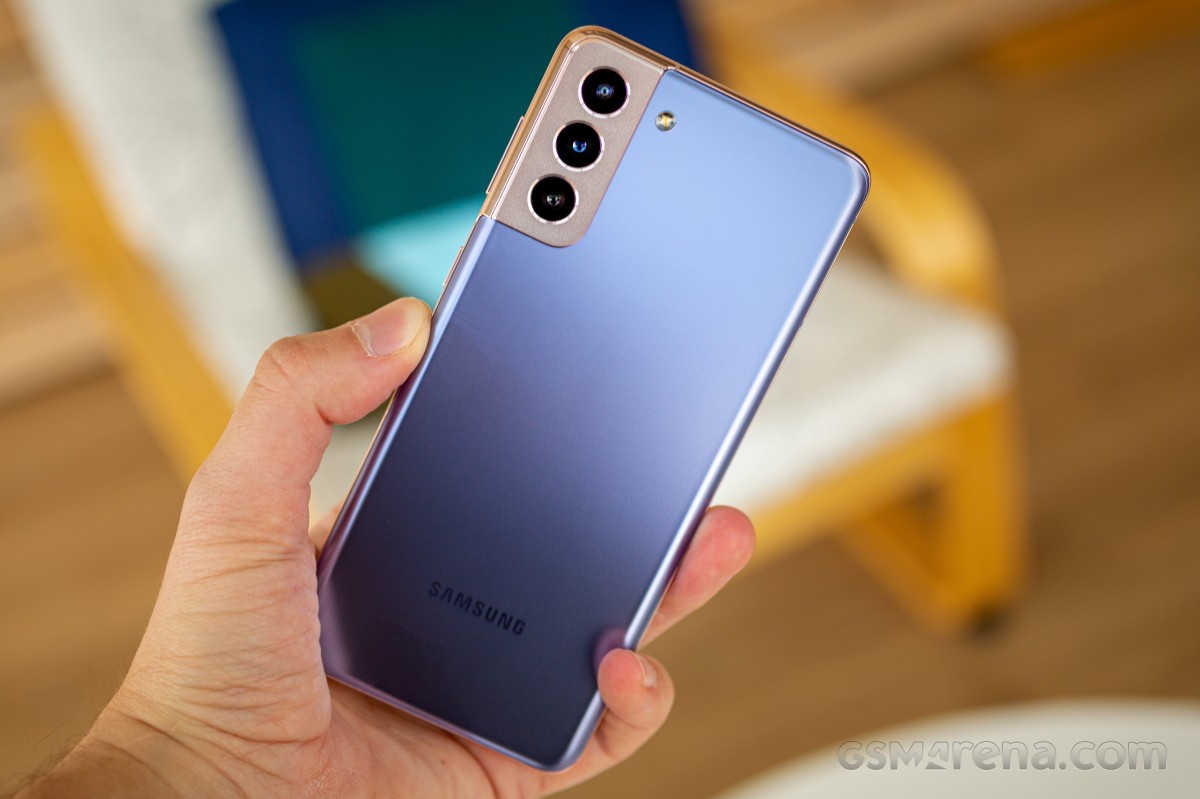 As far as notable drawbacks to a smartphone webcam setup go, the most-notable ones relate to the device's longevity with such a strain. Running the phone's camera for prolonged periods while also streaming the video through Wi-Fi expectedly produces plenty of heat. You can mitigate a big portion of that by choosing an app that can turn off your display.
Having the phone constantly plugged in for charging is also not ideal as it generates even more heat. These considerations come into play if you plan on using your phone in this manner for prolonged periods of time and days upon days. If that is the case, you should probably shy away from using your daily-driver handset. But, for the kind of occasional teleconferencing most of us tend to do, you will definitely greatly benefit by going for a smartphone over your average webcam.
j
This one needs an update. For example irium premium has watermark removal and more control to picture and also control from pc Not sure about ivcam, also they added a remove background feature
A
Is it possible to get a 8k video call with my Xiaomi Mi 10 ultra? Since the phone has two 8k cameras.
T
The lag with IP Webcam can vary dramatically depending on how you use it. With your measured lag, I think you used the same way as I did in my first test, but IMHO not the ideal one. I use(d) it with both my phones (Older Huawei P30 Pro and now...
ADVERTISEMENTS