Better Business Bureau finds T-Mobile to be misleading Americans about 5G in ads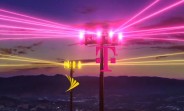 A new release from The National Advertising Division (NAD) of BBB (Better Business Bureau) National Programs is calling out T-Mobile for its most recent marketing ads that could mislead customers about its 5G network.
The ad in question may lead customers to believe that T-Mobile and Sprint's networks have combined and resulted in immediate benefits to T-Mobile customers.
T-Mobile has made clear its ambition to "build American's largest 5G network" and that "T-Mobile's 5G network will have "more towers, more engineers, and more coverage" than 5G networks of competitors. These would come as a result of the merger, though in the future tense.
The claims at issue for T-Mobile's post-merger with Spring 5G service, which appeared in online and television advertising were challenged by Verizon Communications, Inc.

[…] NAD concluded, however, that claims about the benefits of the Sprint-T-Mobile merger together with the combination of imagery depicting magenta and yellow beams rapidly shooting from tower to tower, speeding through server rooms across cities and over vast landscapes, engineers installing technology upgrades, and consumers using their smartphones or teleconferencing, reasonably convey the unsupported message that the touted benefits of the merger will be imminently realized by consumers.
The NAD is recommending that T-Mobile modify its wording in the ad as to not suggest that the benefits of the Sprint merger are immediate. T-Mobile has supported the NAD's recommendation and will modify the claims like "You'll get the best 5G network", "building a 5G network that will deliver unprecedented… reliability, and the highest capacity in history", at least without means to support these claims.
r
T-Mobile is not an American company so perhaps that is not the source of the evil and we need to dig deeper to find the problem maybe its because they are foreign o wait so is Unilever and Philps with 1 l damn perhaps national origin has nothing to ...
r
This advertising is only arguably misleading I find the latest ad offering a free fone for new customers switching service is flat out misleading as there is under no conditions a free fone in your future ; it comes with some hidden strings 1 ) not f...
H
It's disgusting how companies like T-mobile lie to the American government just to be CLEARED to buy out other companies with fake promises. I recently had to switch from 10years of sprint to T-Mobile. This was months ago, and I was lied to IN MY ...