Bing Maps is getting into the navigation business in a bid to further deprive dedicated SatNav unit manufacturers. It now supports voice-guided navigation on Windows Mobile 6.x phones on a number of devices.
Following in the footsteps of its rival in the mapping world, Google Maps, Bing has added turn-by-turn navigation capabilities with voice prompts to its mobile application.
To use the feature, all you have to do is update the Bing application and tap the "Navigate" button when getting directions. Its routing algorithm is customizable so you can choose the fastest or the shortest route, avoid traffic and tolls and other things you'd expect from a SatNav application.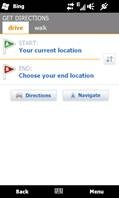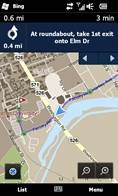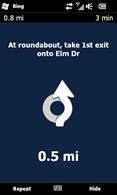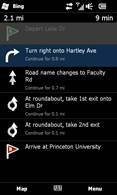 The updated Bing application does voice guided navigation
The updated Bing application works on Windows Mobile 6.x, but we're guessing there will be a Windows Phone 7 version when the new OS arrives. Go to m.bing.com on your WinMo phone to get the update.
However, voice-guided goodness is available only in the US for AT&T, T-Mobile and Sprint subscribers and not all WinMo phones. Hit the source link to see the list of compatible phones.
i
You made me laugh! xD It'll also have the weird tendency to show pop up icons of nearby apple stores as you keep driving. I can even imagine that, if you ignore those icons for like, 2-3 times, the app might shutdown itself and a recorded voic...
?
What, copied the Droid?
j
Just Tested it!....go to Microsoft Marketplace and search bing app...download it and it will ask for an update get it...and BAM!...Free Sat nav for my HD2.....and it work better then my buddies sprint nav or my other buddies Droid google nav....Im lo...
ADVERTISEMENTS