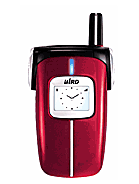 ?
this is a sagem c2-5v! i wouldnt buy a bird fone because the brand is unknown and unreliable

M
It was cool when I bought it about 18 months ago but unfortunately it stopped displaying some weeks back and have not been able to fix it. They said it is the flex or cable. the engineers could not repair it because the phone is not common. PleaSE HELP, data are trapped on the phone.
M
Um well, guys sagem and bird have some kind of contract or "friendship" with each other. They tried to join into one or work together i guess, kind of like Sony Ericsson but no where near as good. So Sagem would have sued but bird did get permission.
?
Very nice however sagem brought one out VERY simlar about a year ago and a bit cheeper as well and more raliable my advice to anyopne if you like this phone buy the Sagem MYC5-2V it's one above this one

m
i love this phone, it´s so cool...
L
its really nice and creative concept about the watche
O
Very lovely but I guess I have not been too lucky with Bird's products (I bought S1180c(bad now) G118). The speaker of G118 ceased to function after about 5 weeks of purchase.
m
look go and have a look at the sagem my 3c-s bird are the biggest copy cats they copied sagem so badly the rear front and even the inside thats not fair if you want to buy this phone buy the sagem version
s
its a sagem.........???
?
My Bird flys really high! I love it.
o
plz i lkie this set plz can i buy it with cerdit card
T
as it appears in the picture it seems to has a stereo apeakers.....
cool one.
e
very hard for setting the phone to enable it to use gprs wap killin me man not friendly use. tq
?
nice bird.i like this bird phone.
Total of 14 user reviews and opinions for Bird G118.
ADVERTISEMENTS