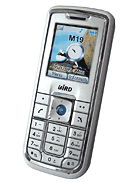 J
It was really nice when I have bought Bird M19 handset and used it so smoothly. But recently it takes auto restart. I canít even make any phone call. Expert says it is software problem. How can I get software and solve my problem?
p
i bought bird m19 but there wasn't any cd in the package and my computer can not identify cell phone.how can i download a software for install sth on my mobile via computer.please reply as soon as possible
J
I have been on of those people who has been enjoying the phone M19 in West Africa.

recently my phone couldn't respond again when I tried to charge it. I found out that the USB port on which I plug the phone in and has since refuse to come on. I have send it to local repairers but they can't help me. Can you help me bring back my phone to live? I love the phone.
a
i need bird m19 software for using as a gprs modem. pls help me. thank u.
r
it is gr8 but id lyk 2 hve it upgradd with a card slot n a blu2th. tnx n gud day.
?
please help me activate my GPRS and my MMS.I want to send pictures but i cant because my MMS nd GPRS are not activitated. and i want to know how to download my MP3 ringtones.
please email me.

thanks.
j
it is nice but it has no bluetooth port and infrared port. I'd like t ask if how can i activate the GPRS.
k
it's light to carry...
nice default/factory ringtones.
jus wanna know how to use/activate it's caller photo alert feature.
the manual doesn't tells much.
i would appreciate if you could send me instructions regarding caller photo alert, downloading mp3 ringtones.
i got it just recently and i wanted to keep it for longer period of time.

thanks!

Total of 13 user reviews and opinions for Bird M19.