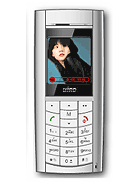 A
High price low function,low battery backup and accessories and parts not available.
A
I am regrettig now coz i buyed this phone before 2 months..its good features are: Vry slow, no composer, no ringtones downloadable,
tuff functions, worst search, and u even cant write long names as the nuber of letters is restricted, and signal?? huh if you are inside room, no network signal...would anyone like to go for it??
Z
it's a very smart basic phone for those who don't want mp3's camera and other tensions.. just for call :) very nice for everyone....
Total of 4 user reviews and opinions for Bird S699.