Google's hardware launch event is set to take place on October 9 where the search giant is expected to announce the Google Pixel 3 and Pixel 3 XL alongside some other Google hardware.
Today, two official-looking renders of the Pixel 3 XL have leaked from none other than @RolandQuandt on Twitter. This is the first time we've seen these official-looking renders, as well as the large "3" in the phones' default wallpapers. The mint-colored power key on the white model is the same thing we saw in the last Pixel 3 XL leak involving hi-res images of the notched phone.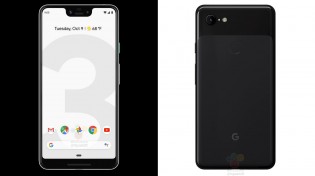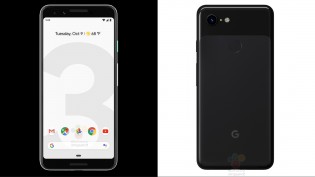 Pixel 3 XL and Pixel 3 in black; Source: WinFuture.de
It also appears that the same mint-colored button and white body will be available in the smaller model as well. If you recall, the Pixel 2 and Pixel 2 XL from last year had slightly different color combinations since they both came from HTC and LG, respectively.
The notch on the 3 XL is going to house two cameras, a front-facing speaker/earpiece, and the standard light and proximity sensors, hence the huge appearance of the notch. We're not sure if Google is going to employ some new kind of facial recognition with these two cameras – our guess is: probably not.
There's a 6.2-inch display with 2880 x 1440 px while the smaller Pixel 3 will have a 5.5-inch display with (likely) the same resolution. Of course, rather than a notch, the smaller Pixel 3 gets wider upper and lower bezels.
We're expecting both devices to run a Qualcomm Snapdragon 845 CPU with at least 4GB of RAM and at least 64GB of internal storage. Considering that the Pixel devices don't come with expandable storage, we hope the entry-tier of storage is 128GB but we can only dream so much.
Are you any more excited about the Pixel 3 devices or will you be skipping out on this year's devices from Google?
s
i'd really like if google also release a budget version (not apple type budget)... around 500$..a 1080p will be enough with 4/64.. don't have to be 845/855.. something like 700 series..but the camera stays the same 😘
b
relax man) there is no "apple" or "android" design anymore) all phones look the same now)
J
I really really wonder ...... Google this the kind of Android phone ... why the designer , design phone follow Apple style .... i have nothing to said ... and feeling disappointing ! thz