The sales of Apple's latest tablet, the iPad Air saw a growth of 51% during the past weekend, according to a report from Localytics. The fact that the device has been on sale for just over a month along with Black Friday promotional offers drove the spike in sales of Apple's latest slate.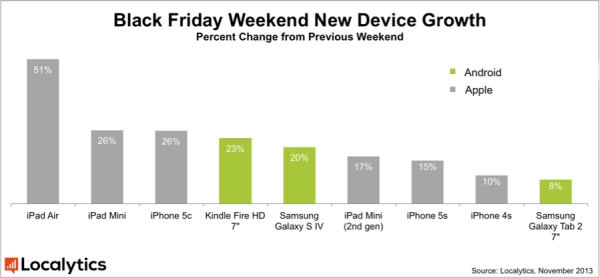 The second place in the overachieve standings is taken by another Apple device - the first generation iPad mini. Black Friday and the Cyber Monday also saw a significant growth in the iPhone 5c sales, which managed to cling on to the third position.
Amazon's 7-inch Kindle Fire HD and Samsung's Galaxy S4 are the only two Android devices that managed to make it to the top five with 23% and 20% sales boost, respectively.
Other devices that managed to make the most of the promotion is the second-generation iPad Mini, iPhone 5s, iPhone 4s and the 7-inch Samsung Galaxy Tab 2.
C
And I forgont. I do have a laptop. And a desktop. I still use them for serious stuff but the rest of the time the tablet is perfect for media consuption and light gaming.
C
Just got a Nexus 7. Perfect companion to my Nexus 4, which now starts gathering dust as soon as I get home. When I'm on the couch, the phone stays put, I only use it when I'm out.
D
after christmas it's dropping 62% so what...
ADVERTISEMENTS