The Google Play Store was out of Nexus 5 16GB stock a couple of hours after the device was officially announced. The 16GB units are still out of stock in the US Play Store.
There are 32GB units available – both Black and White – but the bad news is if you haven't pre-ordered one already you're in for a wait. The Nexus 5 32GB in the US Play Store comes with the note "Leaves warehouse in 2 - 3 weeks".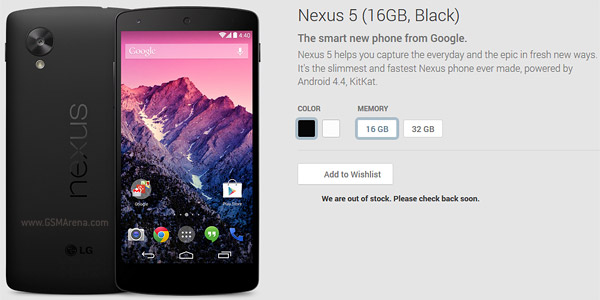 In the UK Play Store, the White Nexus 5 units (both 16GB and 32GB) will ship in 1-2 business days, while the Black units will leave the warehouse "by November 8".
The German Play Store is also out of stock of Black 16GB units, while the 32GB Black units will ship by November 15. The 32GB White units will come the soonest – ship by November 8 – while the 16GB White ones will take 2-3 weeks.
It seems that Google has learned nothing (or refused to learn) from its previous device launches. We get that the Nexus 5 is a relatively low-margin product, but not even coming close to meeting the demand is still very annoying.
S
Would not want a 16gb variant! Minimum is 32gb and wish the Nexus and all phones with non expandable memory come with 32 and 64gb options! At least there is no 8gb option this year, what a joke that was!
n
thanks for replying,i tried from different account and different credit but still have the same problem :( , i guess its out of stock :( .
E
I also had the same problem. It happened with the Nexus 4 also. We called and fixed for the Nexus 4 but the Nexus 5 would not work no matter what. You have to use a different credit card