It looks like those pictures of Samsung Galaxy S III in black color scheme which we showed you a couple of days ago are indeed the real deal, folks. A black Samsung Galaxy S III has also appeared in Carphone Warehouse's inventory database, thus reaffirming the notion that the new color scheme is coming our way.
Update 12 Aug: One of our readers, a Carphone Warehouse employee, informs us that the black model has already been removed from the inventory. Perhaps it was there by accident.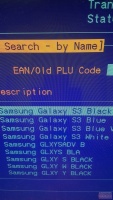 Since this is the same way we exclusively found out about the white and blue versions of the smartphone prior to its launch, there is hardly any reason to doubt the legitimacy of the above screenshot. Besides, we do believe that quite a few people will pick up a Galaxy S III in black given the opportunity.
As always, nothing is final until an official word comes from Samsung. We don't think it will be long before it happens - especially with IFA around the corner.
M
Very disappointed with purchasing S3 with android, OS is crap really, so many bugs ... once is ringing for msgs once is not with no change no reason, screen once goes off itself as set once isnt.... etc. Speaker is not loud enough, while useing Navig...
D
Someone will get fired!!!!!!!!
_
The Black Galaxy S3 has been set up on the system longer than the original white and blue S3. I think CPW were just putting a test code in there when it was originally announced.
ADVERTISEMENTS