At a special event yesterday RIM unveiled the BlackBerry 10 beta 3 running on the company's new test device, the Dev Alpha B.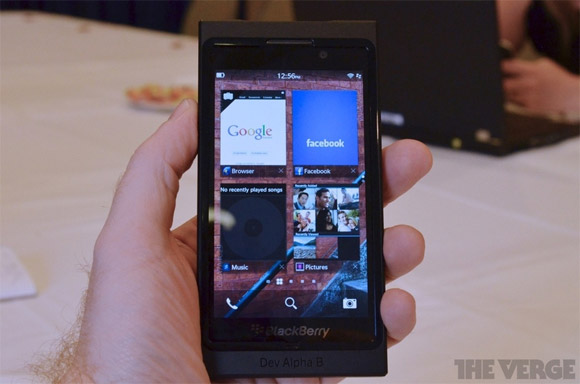 The UI look and feel of this latest BlackBerry 10 build is what RIM will be putting on its final BB10 devices in early 2013. And according to those, who've tried it, it really has the potential to grab people's attention.
Let's start with the new UI features. Starting with the new beta, to wake the device, you simply swipe from the bottom of the screen. Then, you are welcomed with the traditional batch of homescreen panels.
However, there's a twist. The first homescreen isn't really a homescreen in the sense that it holds widgets and app shortcuts. Rather, it houses the so called "Active Frames". You can have up to 8 of them and they represent currently running applications. Mind you, only four fit on one screen, so to view the other four, you'd have to scroll down.
RIM has done good job of backing in gestures in its OS.For example, you can jump straight to the homescreen from any app by swiping from the bottom up. Making the opposite swipe (top down) brings up the settings menu or another contextual menu, depending on the app you're in.





BlackBerry 10 SDK Beta 3 in action • Photos by TheVerge
What's really interesting is the new BlackBerry Hub. This is RIM's unified messaging service. It integrates all your email accounts, messages from social networks (Facebook, Twitter and LinkedIn) and puts them in one place.
It's accessible by a sort of weird gesture - swipe up and to the right (think of it as a reversed L). Once you access it, you can see your notifications alongside the aforementioned emails and messages.
Back to the homescreens, swiping right of the Acitve Frames, reveals the classic list of App icons. They can be manually moved around and sorted to your liking. RIM has integrated an interesting feature allowing you to switch the device into personal or work mode when you swipe down from top of the screen when viewing the App icons screens.
Choosing Work mode allows you to launch an app in a secure mode. For example, a company might restrict copy and pasting in certain secured apps.
TheVerge was at the developer event, and made a user interface video of the latest BlackBerry 10 SDK Beta 3 build. Check it out below.
Judging from the footage, the latest build of BlackBerry 10 looks very promising. It's very fast and fluid, and packs a lot of interesting UI features that its competitors just currently lack.
As for the new device, it features a 4.2-inch display with RIM's standardized resolution of 1280 x 768 pixels. As TheVerge points out, its speaker grill, cameras, microphone and buttons really resemble the recently leaked BlackBerry 10 L Series phone.
What your take on RIM's progress with BlackBerry 10 so far?
Source
s
I hope this bb10 will have efficient battery because iphone is good partly because their battery is very efficient.blackberry should consider improving in their battery efficiency
r
Qnx kicks android butt. I have android good phone OS but it doesn't control 20+million autos .high-speed trains ; flight simulators should I continue
P
I am so glad that bb is still around and trying to come up with new stuff. The Apple and Android phones just STEAL your info and sell it to the highest bidding advertiser. I had a Samsung Galaxy S3 for 3 days and after the 3rd level tech support agre...
ADVERTISEMENTS