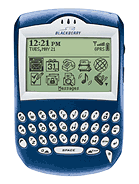 k
wat a interesting calculator!!

oh,wait..its a hp,hmm..not bad..da design is gud....reminds me of da calculator dat i always use,wait..its a hp..
B
What the hell is this it looks like one of those childrens toys that teaches you how to count and say "dog goes Woof" and stuff!! V-TECH!!! haha this phone is a joke just give up blackberry or start sellin em as door stops
Total of 142 user reviews and opinions for BlackBerry 6230.