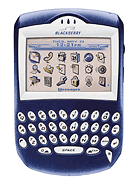 ?
This phone is really ugly !!!! i mean look at it is just plain horrible (it is okay for like lawyers and things but not for normal pepole!!)
G
I have had this model since 12/04. I travel all over the world. This unit most of the time automatically downloads the necessary service books for the different countries I enter. Sometimes, I have to manually force it by removing the battery for 30+ seconds. Its not much but it is a pain as the start up for this is at leat 3 minutes. The phone portion is good, but I do not like it due to the size, width. I have trouble finding the spot to hear, kind of awkward. When headsets are installed, it is very good and clear. Even in countries like Czech Republic's mountains. My favorite part of the phone is the real time email. And that too is received all over the world.

What I do not like is the attachment viewer. It is just no good. Well, at least for me. I get pdf's and doc's all the time and I just cant view them. Unless I want to pay an extra subscription price of $20 month. My other problem is the internet browsing. It is WAYYYY too limited. This too is better if you pay extra and download a 3rd party program.

Overall, this is a good unit. It is somewhat outdated due to technology. But for the budget, if you get it with a cell provider contract, it is worth it.

Gregg
P
the thing us a have to choose by june a have problem my phone is nokia 6600 but a think this is great im thinking to change my phone to this phone so tell me is this is good for me thanks
a
great unit i have the new 7290 quad band, bluetooth, double the memory version now.
The 7230 is great but the 7290 better.
I love these over PDA phones which give you rsi with stlus pens etc, plus the Blackberry comes standard with real time push email, PDA's are so last week....get real get a blackberry and have real time email
Total of 106 user reviews and opinions for BlackBerry 7230.