There are some games too
The BlackBerry BlackBerry Bold 900 has the same games as its 8900 Curve sibling - as many as five titles are preinstalled on the handset.
The first two titles include a version of the all too popular Bricks game and Word Mole, where you have to compose words with the letters given on the board. We did find Word Mole quite amusing as it offers various bonuses and extra levels.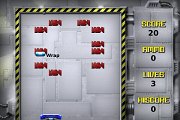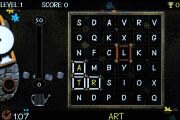 BrickBreaker and Word Mole games
The new games include Texas Hold'em King 2 which, as the name suggests, is a mobile version of the popular card game. The other two games are Sudoku and the Klondike solitaire. There's hardly anything to explain here as both of them are familiar enough.
GPS navi double
Just as the tradition goes, BlackBerry Bold 9000 is equipped with a built-in GPS receiver and comes with A-GPS support. For navigation you get BlackBerry Maps preinstalled. Unfortunately it is yet another application that only works with a BlackBerry internet plan activated. This means that voice-guided navigation is out of the question for the ones that buy it SIM free and then use it with their regular plan.
BlackBerry Maps provides basic map functionality plus voice-guided navigation. You can enter an address straight from your phonebook and you can also save your favorite spots so you don't have to type them every time.
The BlackBerry Maps also allow you to send your location to anyone via email or SMS, and that rounds off a decent but certainly not spectacular application.
Final words
At the end of this review we can confirm our initial observation. The BlackBerry Bold 9000 comes to crown the company efforts in the recent years, coming as close as possible to the ultimate business tool.
The handset offers a remarkable display, a great keyboard and an unsurpassed among the family connectivity. We highly doubt that there will be something more that a BlackBerry fan could want, except for maybe the more compact body of the Curve.
Outside the BlackBerry world the Bold faces somewhat stronger competition. The Nokia E71 matches its connectivity, still offers a great screen and keyboard and costs about 50 percent less. And it's more compact. In addition it offers a larger choice of 3rd party apps and more stable OS than the Bold.
Windows Mobile QWERTY devices such as the Samsung i780, Palm Treo Pro and HP 910c are also having an edge over the Bold for offering a much greater variety of 3rd party applications to choose from - those devices have a more competitive price, as well. While there certainly are a number of apps for the BlackBerry too, they are merely a drop in the bucket compared to the software available for WinMo.

Samsung i780, Palm Treo Pro and HP 910c
Besides, the BlackBerry world is not so hospitable to strangers. There is only point in getting the Bold if you are planning to bet the BlackBerry Internet service, which might be another deal breaker to some.
And even with all those remarks in mind the BlackBerry Bold is still worth a look when you are shopping for your next business handset.