There's a video of an early version of the BlackBerry 9550 Storm 2 up on CrackBerry.com and here's the rundown: the display still clicks but it's better, there will be Wi-Fi, the storage memory has been doubled and the hardware keys on the front are now part of the display.
If you haven't had a chance to see the original Blackberry Storm in action, we'll remind you of its one-off design. The Storm display actually sinks in when pressed as if you press a real button to create a revolutionary haptic experience on a full touch mobile phone. Unfortunately, due to its chubby body, lack of Wi-Fi and poor camera results along with software instability issues the Blackberry Storm failed to live up to our expectations.
The upcoming and yet unannounced BlackBerry Storm 2 screen however has apparently evolved. It's now fixed in place (much like on a regular phone) but only while the device is off. Switching it on allows it to start "clicking" back again.
At this point we can't really imagine how they've implemented that, but one thing's for sure - the gaps between the display and the frame are now much smaller and there is no more wobbling or dust collection that plagued the display design on the original Storm.
Both the hardware and software shown on the video are early versions of what will eventually be the BlackBerry Storm 2, so details are definitely subject to change. Some time ago we posted spy shots of the Storm 2 and its looks don't seem to have changed much but there are no guarantees this is the final version.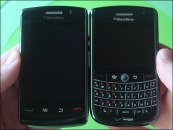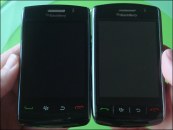 BlackBerry Storm 2 vs. its siblings
For now, the OS is practically the same, version 5.1, and likely won't change too much but the phone reportedly has more memory, which improves performance. Storage memory has also been doubled to 2GB.
The overall built quality has improved - the back panel for example, is better designed. The overall look of the phone is mostly the same, though more polished. Still, the thing is quite heavy as 155 grams is heavyweight these days.
And here's the video posted by Crackberry.com:
Source: CrackBerry.com, CrackBerry forum
?
i think they should add a trackball and activate the multitouch function.. in case to make it more comfortable like iphone does...
D
In lieu of Bluetoothing documents, I think there is something wrong with your peer'd device because I do it all the time. All connectivity is available through the blackberry software which will use any communications mendume available, USB, Bluetoo...
?
i think that this phone is better than the first generation storm cuz it has wifi but the keyboard is bad i wonder when it is going to be easy to use like the iPhone
ADVERTISEMENTS