An internal slide for the BlackBerry A10 has been made public, and sheds some light on what you can expect from the upcoming device. In the below slide you'll see the A10 with its characteristic white band across the bottom, alongside a list of specs.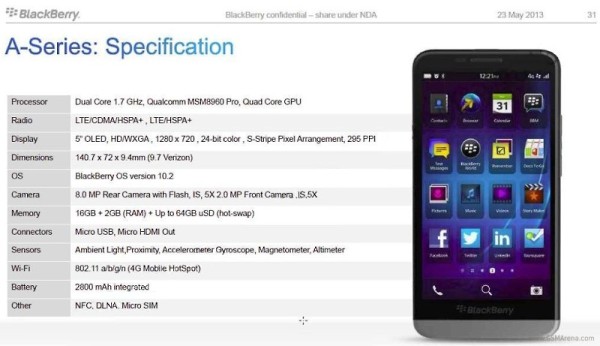 While the slide dates from back in May, and some specs may have changed since then, it does confirm that the 5-inch display will be of the 720p variety (rather than fullHD, as found on most recent 5-inch Android flagships). There's also mention of the dual-core Qualcomm processor, which will be clocked at 1.7 GHz, rather than 1.5 GHz as we previously heard.
Unfortunately, this latest leak does not indicated pricing or availability of the BlackBerry A10, but we'll keep you posted when we hear more on that front.
?
Agree is surely awesome
S
Very happy with my Z10. Keen to have a look at the A10 when it comes out.
P
No one else has BB10. That's how they differentiate themselves from the competition.
ADVERTISEMENTS