Team RIM and the 'boys in the labs' have been working on the latest iteration of the Blackberry App World, version 3.0 and it seems that they're pretty pleased with the results.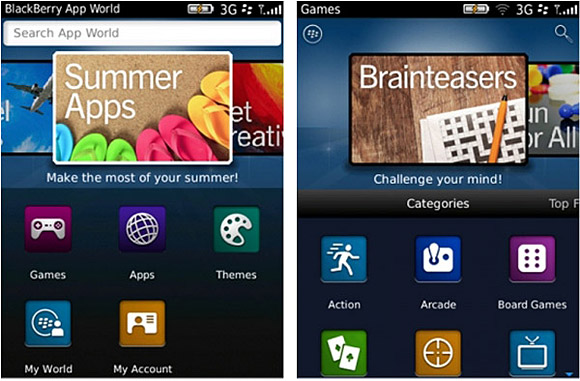 The new App World home screen design
The changes are apparent from the off with a completely redesigned home screen which has re-prioritized functionality in the form of the new App World search bar. The search system allows you to sort by app name, price, rating, newest, best match and popular, in an attempt to streamline the search process. Underneath this sits the spotlight banner; showing the latest and most popular apps, akin to both the App Store and Android Market on their respective devices and rounding off the new home screen, there are now five new icons down at the bottom which are referred to as 'top level channels'. Two of the upper three icons, 'Games', and 'Themes' denote the most popular categories typically searched on the App World and the new 'My Account' option gives users easier/faster access to things like their BBID and payment options, handy.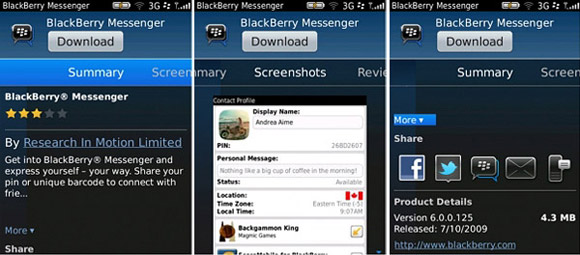 You can scroll sideways to see extra app info and sharing options
Information on each app has now been consolidated into a single screen which you can swipe left or right with, in order to see its summary, screenshots and reviews. The 3.0 update coincides nicely with the announcement of three new devices alongside the launch of BB OS 7 and as with the enhancements to the OS, App World 3.0 has a focus on sharing. Team BlackBerry have tried to make it easier for users to share apps with their friends, with quick access to popular social services like Twitter and Facebook or SMS, email and BBM sharing.
It's a welcome improvement that helps move the Blackberry image forward and brings its app store more inline with its main competitors. RIM still need to think about how they can drive the 'cool' factor a little harder but this design definitely brings them up to date.
If you want to try BlackBerry App World 3.0 for yourself, it's currently available on the Blackberry Beta Zone. As such it's only available in certain countries but the download is available here once you've signed up and if you want to know which countries are supported you can see the list here.
Tell us about your experiences and thoughts on the new look App World in the comments below.
S
32394e89 ping me for help but now i need help has anyone here hav app world icon problem not showing in the menu??????pls tell me what to do i hav remove and reinstalled bt nthing is good
j
I need the new app world plz
m
At saw me BlackBerry Identity installation failed
ADVERTISEMENTS