BlackBerry has always played a game of its own within a pretty specific niche of the smartphone market. Despite all the turmoil surrounding the legendary brand in recent years, that has remained mostly true under TCL management, as well. Having said that, 850,000 BlackBerry Keyone units shipped, might not sound like much, but it was apparently enough to merit a successor.
Codenamed "Athena", it was first spotted in a few detailed renders earlier this month. But given the visual similarities with the original Keyone, those were subject to some forgery speculation from the very get-go. However, a recently unearthed TENAA listing for a very visually similar device mostly clears the air on the matter. Apparently the "Athena" is real and will likely be released under the Keytwo or perhaps Keyone (2018) moniker, pretty soon.
Looking at the new photos, there do appear do be some discrepancies, compared to the original renders. For instance, while both place the BlackBerry Convenience key on the right-hand side this time around, its shape and position, relative to the power button appear to be slightly different. The, likely plastic or rubberised pattern on the back of the TENAA device also appears to extend all the way to the top bezel - a departure from the original Keyone design, as well as the leaked new model renders.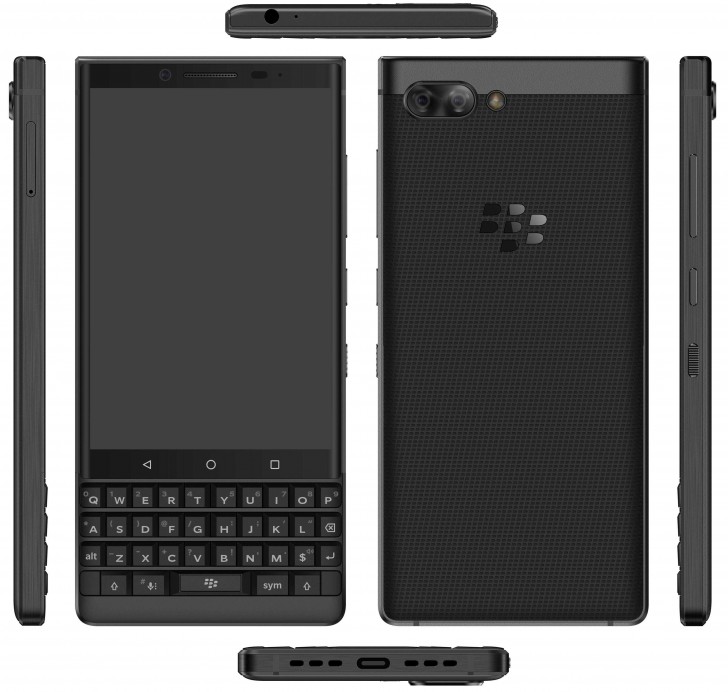 These, however, are minor details that could easily be explained with an ongoing design revision progress. All the important bits about the "Athena", the ones BlackBerry fans are likely to appreciate, are still present and accounted for. Like, the slightly re-designed, but still essentially identical full QWERTY keyboard. And right above it, what looks like another 3:2 aspect ratio touchscren. Just like on the Keyone.
This time around, however, the back of the phone houses a dual camera setup - a BlackBerry first. The original renders, also feature a 3.5mm audio jack and a Type-C port in clear sight. Unfortunately, the TENAA listing does not contain any hardware information beyond this, so far. It does divulge the phone's BBF100-4 model number. Which, by sheer similarity to the BBB100-X designation of the Keyone, makes the successor scenario that little bit more credible.
?
Perhaps next year BB will release a model with the so called Snapdragon 710 SoC and/or Android P.
D
i wish they would use the BB trademark V shape keyboard, like old school blackberrys the one they make now is useless !!
ADVERTISEMENTS