The BlackBerry Bold (Touch) 9900 is available for pre-order on the Vodafone UK website and will ship as early as August 16. The device can be yours for free on a £41 per month contract or £399 on the cheapest £20.50 per month deal.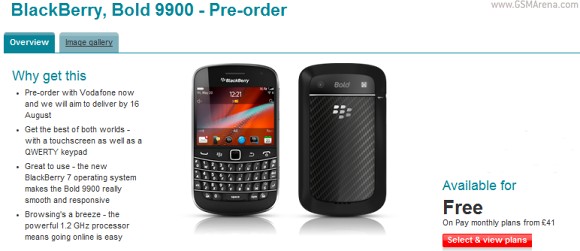 The box contains fairly little - the phone itself, a charger and the battery - quite modest. Depending on the tariff you choose you can get a different mix of minutes/texts/data. Check out the plans here.
The Bold 9900 runs on BlackBerry OS 7, a single-core 1.2 GHz processor, NFC support (via chip), has a 5 MP snapper with 720p video recording and a 2.8" VGA (640x480) 287 dpi capacitive touchscreen display.
We've heard the device will land in the US, Europe and Canada in September, while the Carphone Warehouse has listed a shipping date of August 12 for Vodafone UK. Also the price listed on the Carphone Warehouse (on the Vodafone UK network) is free on a £31 per month contract (the Vodafone UK site lists the smartphone at £199 on the same contract). A little miscommunication going on here perhaps - we'll see.
Thanks to everyone who sent this in!
v
can i have a blackberry from victoria loftis
m
Carphone Warehouse are dopingit at 31 poundsto on voda at 31, and orange at 35
ADVERTISEMENTS