The BlackBerry Touch 9860 (codename Monza) showed up in some spy shots with a minor facelift – there were four physical buttons under the screen instead of the capacitive buttons we've seen in previous leaks.
The Monza is the GSM version of the BlackBerry Touch 9850, a.k.a. Monaco. The original leak that revealed the Touch, showed a Monaco with capacitive buttons but an extra slide showed a version with physical ones.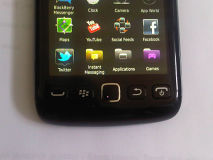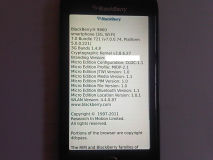 BlackBerry Touch 9860 with capacitive buttons
It's not unusual for a maker to produce several different versions of a device and put them through a testing phase to choose a winning design. This is probably what we're seeing here – but which one has RIM chosen?
A leaked promo for the BlackBerry Touch 9860 used the capacitive button version, which makes it the more likely choice. Of course, nothing is certain.
The new spy shots also confirm that the Touch 9860 will be running BlackBerry OS 7 (which started out life as 6.1 but RIM bumped up the version number higher). There's no confirmation on the rest of the specs but they're in line with the official new generation BlackBerry specs – 1.2GHz CPU, 768MB RAM, 5MP camera with 720p video recording and more. The Touch also sports a 3.7" WVGA screen with 253DPI.
R
I am waiting..waiting....waiting.....Small request Dear BB please do not do a ala Storm.
B
RIM, for pete's sake, please create a model that has: 1. front facing camera, and 2. has something similar to Apple's Facetime
?
Different buttons! Woohooo!! RIM innovation breaking the Blackberry mold....
ADVERTISEMENTS