BlackBerry World Conference is only a day away but RIM simply couldn't wait. A couple of pictures of the highly anticipated BlackBerry Bold Touch surfaced on the company's website and all but confirmed its official announcement in the coming days.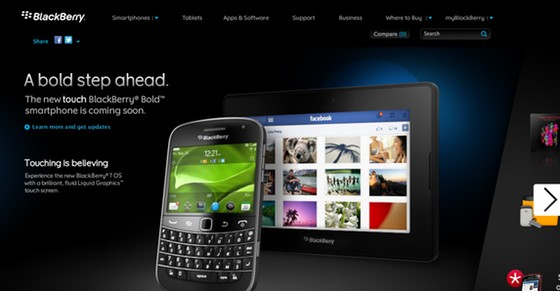 While the device and its new OS have leaked before, this is the first time when the source is RIM itself. We know for sure now, that the upcoming BlackBerry Bold Touch will be running BlackBerry 7 OS (not the rumored 6.1), and that, unfortunately, it won't be QNX based. All that we are left with now, is to stay tuned for the official announcement at the BlackBerry World Conference.
P.S. The PlayBook in the back of the picture is running a yet unannounced Facebook app. Interesting, isn't it?
c
That would be awesome! I want one too.
P
FYI Folks... LOOKS LIKE THE 9900 IS COMING WITH A FRONT FACING CAMERA!!! Last night I went to a T-Mobile "Corporate" Store to look at all their phones that had front facing cameras. I have had the 9700 since it came out, and mine has b...
D
WRESTLEMANIA nokia E6 v/s blackberry bold touch.
ADVERTISEMENTS