BlackBerry Lite
BlackBerry Curve 8520 review: BlackBerry Lite

Telephony: smart dial saves the day
Making calls with the BlackBerry Curve 8520 was fine, without any issues with reception, or in-call sound quality.
What impressed us was the Smart Dial feature, which worked so well with the QWERTY keyboard. The phonebook is nearly redundant since you could find the contact you need so easily straight on the homescreen.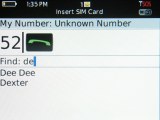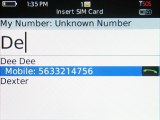 The smart dial is probably the best part of the whole BlackBerry OS
All you need to do is punch a few keys on the homescreen and the names that contain the letters will appear on the screen instantly. You can then select them and place a call - it doesn't get any simpler than that, does it?
The BlackBerry Curve 8520 fared decently in our traditional loudspeaker test. It went away with a Good score, matching most of its siblings.
| | | | | |
| --- | --- | --- | --- | --- |
| Speakerphone test | Voice, dB | Pink noise/ Music, dB | Ringing phone, dB | Overall score |
| Nokia E72 | 65.7 | 60.2 | 66.3 | Below Average |
| Nokia E71 | 68.0 | 66.5 | 76.2 | Good |
| BlackBerry Bold 9700 | 72.7 | 66.6 | 73.6 | Good |
| BlackBerry Curve 8520 | 69.8 | 68.7 | 76.0 | Good |
| BlackBerry Curve 8900 | 75.7 | 66.6 | 75.3 | Good |
| HTC Touch HD | 77.7 | 73.7 | 76.7 | Excellent |
You can learn more about our test here.
Messaging is the BISt
The BlackBerry Curve 8520 has no trouble handling SMS, MMS and email (theoretically) plus it offers the BlackBerry instant messenger preinstalled.
The common message editor is fairly simple and easy to use. There is a counter at the top indicating the remaining characters to 160, and another one showing the number of parts the message will break down to for sending.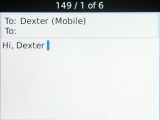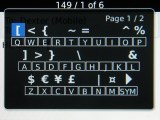 Creating a message on the Curve 8520
Emailing also has a remarkable set of customizable options, probably one of the best in the business. Yet did you notice that tiny remark in brackets up there? We said theoretically because without a BlackBerry Internet Service plan you cannot set up any email accounts on the Curve 8520.
Yep - it's a package deal or no deal at all. You either get a proper service plan or you are left with a handset that can do stuff worth about a tenth of its (admittedly high) price tag. Kinda looks like one of those scam sites where you need to buy lots of extra stuff and accessories to make your "bargain" purchase work like it should have worked in the first place.
We guess this is exactly what makes the Berries the niche product they are. If RIM were selling phones things would've been so much easier, but they're selling a service along - actually it's the other way around perhaps. Business level encryption and syncing options cost, we agree, but a device has questionable value to common users as long as they cannot set up a Gmail inbox without a BIS account.
A decent music player
Now, we don't know what those music keys on top might have you thinking but RIM didn't move a finger to improve the music player application on the Curve 8520. Don't be too hard on yourselves - we had expectations too, only for them to be broken in pieces when we saw the actual app.
The music player is the same conservative looking thing (notice how we didn't say coyote ugly - it's much better than most of the rest of the interface). Besides, it has decent functionality and we are actually pleased with it. Not that BlackBerry ever set the bar too high.
The music player sorts the music library automatically by artist, album and genre and you can search your tracks by gradual typing. You can also create your own playlists in no time.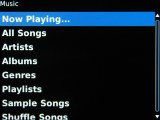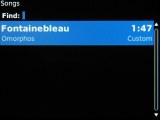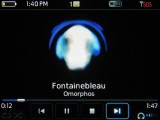 The music player hasn't been modified at all
Album art is also supported and if you don't like the default sound of the device you can enhance it by activating the equalizer presets. Unfortunately, custom equalizers are not available.
Quite naturally, the player can also be minimized to play in background. You can then go back to it via the task manager or through the main menu. There's no indication of the currently playing song on the home screen but you can still skip tracks using the forward and rewind keys on top the phone.