Music player is decent
Conservative looks and decent functionality is what best describes the BlackBerry Curve 8900 music player. The business background of the device is the most probable reason for this and most users wouldn't have expected any different anyway.
The music player sorts the music library automatically by artist, album and genre and you can search your tracks by gradual typing. You can also create your own playlists in no time.
Album art is also supported and if you don't like the default sound of the device you can enhance it by activating one of the equalizer presets. Unfortunately, custom equalizers are not available.
Quite naturally, the player can also be minimized to play in background. You can then go back to it via the task manager or through the main menu. There's no indication of the currently playing sng on the home screen.
Pretty good audio quality
The first audio quality test results that we ever saw by a Blackberry (namely Storm) were quite a nice surprise. Now that we've seen the results by Curve 8900, we guess RIM really know what they are doing when it comes to audio quality. The BlackBerry Curve 8900 isn't as good as the Storm but still has remarkable audio quality, performing well in every aspect of our test.
If it wasn't for the cut-off bass the Curve would have easily ranked among the best sounding mobile phones on the market. This might have been done on purpose to conceal a potential weakness of the supplied headphones. However, with a 3.5mm standard audio jack on board you can easily replace them with almost any pair of headphones.
The rest of the readings are excellent with noise levels, dynamic range and stereo crosstalk particularly impressive. The distortions are also kept well within standards. All in all, you will be enjoying some great sound with BlackBerry Storm 8900. Business or not - this is a worthy achievement.
| | | | | | | |
| --- | --- | --- | --- | --- | --- | --- |
| Test | Frequency response | Noise level | Dynamic range | THD | IMD + Noise | Stereo crosstalk |
| BlackBerry Curve 8900 | +0.20, -3.87 | -89.4 | 89.6 | 0.011 | 0.025 | -88.9 |
| BlackBerry Storm 9500 | +0.09, -0.39 | -87.6 | 89.5 | 0.025 | 0.048 | -85.8 |
| Nokia E63 | +2.63, -2.38 | -75.0 | 75.3 | 0.018 | 0.102 | -74.9 |
| Nokia E71 | +0.74, -1.26 | -74.5 | 74.7 | 0.016 | 0.097 | -75.8 |
| HTC Touch Pro | +0.35, -1.12 | -85.3 | 87.9 | 0.027 | 0.267 | -86.3 |
| Apple iPod Touch 2G | +0.04, -0.05 | -91.4 | 91.5 | 0.0027 | 0.012 | -90.0 |
| Sony Ericsson W995 | +0.04, -0.40 | -89.1 | 89.0 | 0.0033 | 0.048 | -88.7 |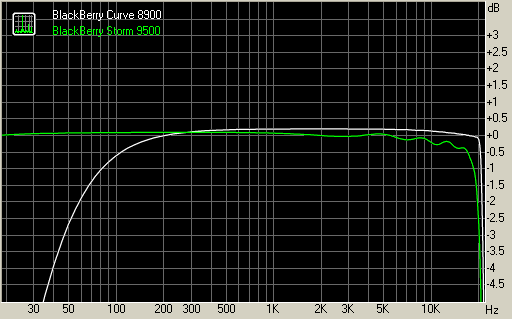 BlackBerry Curve 8900 doesn't have as good frequency response as the Storm 9500
You can find more info about the testing procedure and more results here.
This time they got the video player right
Watching videos on the BlackBerry Curve 8900 is a generally pleasing experience. The screen cannot rival the 3.25" monster on the Storm but its higher pixel density and landscape orientation still provide for excellent quality.
The video player can be set to work in fullscreen with the virtual buttons only appearing upon a key press.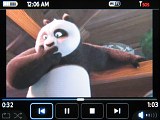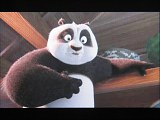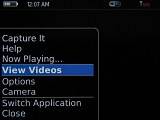 The video player comes with DivX and XviD this time
The best part about the Curve video player is that it comes with DivX and XviD support unlike its supposedly multimedia-oriented Storm sibling. MPEG-4 and WMV are also on board of course but we guess they won't be needed as much.
All it takes to watch a movie on the Curve 8900 is upload it to the phone and start the video player - you get excellent compatibility and some of the better picture quality in business. That certainly is a good deal in our books.
Image gallery is OK
The image gallery of the BlackBerry Curve 8900 is almost identical to the one found on the Storm. The main difference is of course the lack of touch operation but the functionality doesn't differ all that much.
The gallery has standard functionality including thumbnail and list view of the images. We are particularly happy with the 100% zoom shortcut available in the menu when looking at a single picture. It gives you a quick and easy way to review photos in the finest detail possible. Further zoom steps are also available but why would anyone really need them?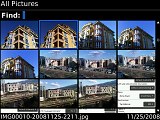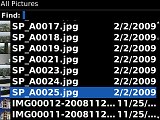 The gallery offers thumbnail and list view modes
Quite naturally the photos can only be browsed in landscape mode. You can alternate photos without returning to the gallery view which is also pretty convenient.
Overall, picture browsing is decently fast and the zooming also seemed a bit faster than the Storm. However a tad faster than the Storm still qualifies as below average. We had no such problems with the panning though.